ADVANTAGE FOR ICELAND WHEN TRAVEL STARTS AGAIN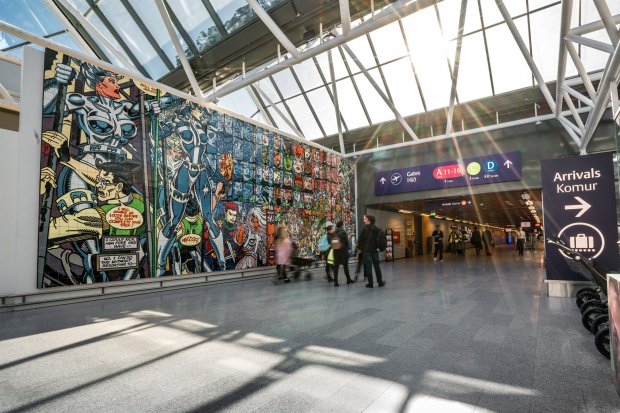 Iceland has been a growing tourism destination in the last decade while Keflavik Airport has been strengthening its position as a hub between Europe and North America.
In 2018 Keflavik Airport had a record year of almost 10 million passengers but shortly thereafter in March 2019 Wow Air, the airport´s second largest carrier, went out of business and Icelandair had issues with the 737 MAX aircraft like many other airlines. On top of all that Covid-19 has had a considerable impact on the traffic numbers in 2020 as airlines and airports around the world have been hurting due to the pandemic. The need for a clear post Covid-19 future is thus vital for all.
Keflavik Airport recently took part in the International Routes conference which was held online as Routes Reconnected. The conference was a forum for discussion on the way forward. Along with Keflavik Airport representatives of numerous airlines and other airports met to discuss prospects after the COVID-19 pandemic. The discussions revolved around the development of flight routes and the way it would be possible to respond to and recover the operation of airports and airlines. Routes conferences such as this have been held regularly all over the world, and their goal is to create or maintain business relationships, establish new route and to promote destinations such as Iceland.
Keflavik Airport has taken an active part in Routes conferences in the past. Representatives for this online event were Grétar Már Garðarsson, Director of Airline Relations and Route Development, and Stefanía Júlíusdóttir, Account Manager of Airline Relations and Route Development. They met with representatives of airlines that have previously operated at Keflavik Airport as well as with new airlines.
Grétar Már says that discussions went well. The meetings were short and tightly packed, and every minute used to its utmost. "When flights begin again, Keflavik Airport will be competing with other international airports for the airlines that recommence operations," says Grétar. "The representatives of these airports also took part in Routes Reconnected with the same goals as we did, i.e. to maintain their position as it was prior to the pandemic and to improve it. We met with the representatives of 23 airlines during the week that this conference was held and saw both old friends and new faces. Discussions went well, although what their result will be remains to be seen."
Grétar has high hopes for the future. "It will be the responsibility of airports as much as airlines, to revitalize the general public's trust in flying and travel. We at Keflavik Airport will be in competition with most airports around the world when travel starts again. The main thing is to be ready for the re-start."
The main priority, says Grétar, is to get airlines back and operating and the airport as a hub between Europe and North America up and running. A connection to Asia would is the missing piece in the puzzle. Keflavik has been putting more focus on getting the first direct flight from Asia and that work will continue post Covid-19. In addition, just before the pandemic hit Keflavik Airport had revamped its incentive programme. These changes came into effect in April. Grétar says this will help airlines to grow their traffic again.
"I believe that Iceland will have an advantage when air traffic starts up again. We offer wide-open spaces, of which there are plenty, rather than crowds. Travels to beautiful natural locations filled with many scenic attractions is what people will be looking for much rather than crowded cities and shopping. For that Iceland is the perfect destination we believe."
The Icelandic government has allocated around 9.5 million euros to marketing Iceland as a destination. This is the biggest campaign the government has funded. "We know that people will be eager to travel when things turn back to normal and Iceland will be a destination that travellers will look to. We at Keflavik Airport will be ready and the future is bright. Remember, things are always at their darkest right before the dawn."