SMARTVIGIE AIRPORT: an innovative digital solution to support operational excellence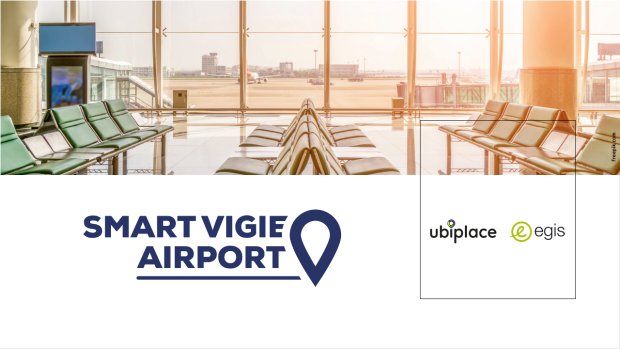 After a successful trial at Pau Pyrénées airport, this innovation, jointly developed with start-up Ubiplace, will now be deployed across the network of airport concessions in which Egis is a shareholder and operator.
Smartvigie Airport simplifies and digitalises airport processes. Through a dedicated application available on smartphones and tablets, the solution centralises the reporting and sharing of all observations made by airport staff on breakdowns, damage or anomalies inside the airport. These observations are automatically assigned to the relevant airport teams to ensure they are taken into consideration and effectively resolved as quickly as possible.

Smartvigie Airport also enables all-digital management of the procedures and documents that support regular control of installations and equipment (checklists, patrol reports, scheduled visits, etc). The standardisation of the process and the resulting responsiveness will help improve service quality and support smooth operations for all customers and airport stakeholders.
Smartvigie Airport is primarily intended for use by the operator's staff but can also be used by the entire airport community (handling companies, shops, service providers, etc.), therefore helping to improve efficiency of information sharing and reporting.

"We have chosen Smartvigie Airport for its simplicity, the multiple functions of the tool and the responsiveness of the Ubiplace teams. This solution is a real differentiating asset for any airport looking to increase quality of service and deliver higher operational performance.
The flexibility of the product makes it possible to change the settings and adapt to the specific requirements of an airport in no time at all. We therefore intend to progressively deploy this solution across all the airports we operate" says Frédéric Mor, CEO of Egis Airport Operation.

The unprecedented crisis that has hit the airport industry has highlighted the need to accelerate digitalisation of certain processes and to better assess and understand the airport environment used by passengers and staff.
In an increasingly connected ecosystem, with growing service quality expectations, the fully digital Smartvigie Airports solution is also completely in line with Egis' approach to sustainable development and sustainable operations.

According to Jérôme Le Bris, CEO of Pau Pyrenees Airport, "The trial at Pau Pyrenees Airport has quickly led to the conclusion that the Smartvigie Airport solution is relevant and efficient for our operations. It also helped to mobilise and bring together our airport teams as part of our continuous service quality improvement process''.

Ubiplace built on five years' experience with other infrastructure operators to develop this unique product, unrivalled in the market, and 100% Made in France. Other avenues of collaboration are also being explored.
"We are excited about the idea of deploying this solution, which has been co-developed with Egis' teams for almost a year now. We are currently working on an artificial intelligence building block to increase the potential of this tool," says Emmanuel Souraud, Managing Director of Ubiplace.

Note: Since 2016, Ubiplace has specialised in the design of digital solutions for private and public infrastructures developed for operators, customers, end-users and institutions. With solutions in place in more than twenty different places including rail stations, ports or cities, the Nice-based start-up aims to accelerate digitalisation of the airport industry. Smartvigie Airport is an example of a successful partnership between Egis and Ubiplace, in which Egis took a stake in May 2021.