The Central Deck and Arena - The site of Tampere's new neighbourhood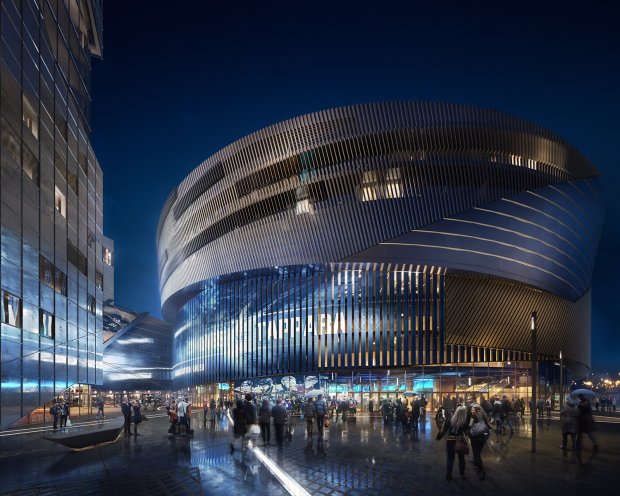 For 140 years, the railway has linked Tampere to the rest of Finland. Soon a central deck will be built above the tracks to house a multi-purpose arena, a hotel, and the city's tallest residential buildings. SRV is developing and constructing this new sports, cultural, leisure-time and commercial centre – a meeting place that will bring Tampere residents and travellers together through unique experiences.
In the near future, Tampere will be equipped for an even livelier urban lifestyle amid world-class architecture. Tampere's new landmarks – Finland's largest multi-purpose arena, the adjoining hotel, and 29-storey residential buildings – will be visible from afar.
A city within a city
The new neighbourhood's numerous restaurants and stores will create a vibrantisland with plenty of new discoveries for visitors and all the vital services required by residents. You could easily spend a whole day shopping, eating and drinking, and having fun.
World-class congresses and concerts
The multi-purpose arena will enable Tampere to hold concerts for up to 12,000 people all year round. This flexible arena can also accommodate smaller concerts for several thousand people, as well as a broad variety of other shows. It will enable Tampere to host world-class congresses and trade fairs.
The best facilities for ice hockey
Tampere has always been an ice hockey pioneer. So where better to build Finland's most modern ice hockey stadium, which aims to will also be the first environmentally certified arena in Europe! Over 11,000 spectators will be able to watch ice hockey matches at the arena.
Confirmed for the Central Deck and Arena:
2022 IIHF Ice Hockey World Championship
Finland's second casino by RAY
Text by SRV. For more pictures, videos and information go see https://www.srv.fi/en/central-deck-and-arena.
Article image credit Tomorrow AB / Studio Libeskind.