Message from South Australia's Tourism Minister Leon Bignell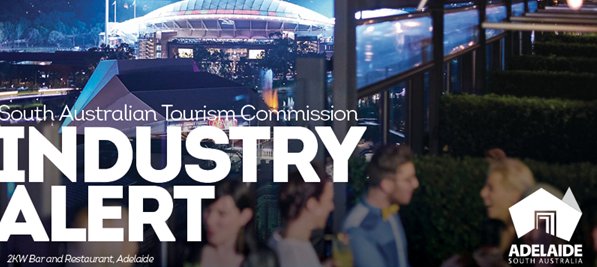 Great news about investment in South Australia's Tourism sector
Tourism is a super-growth sector and an economic priority for the transforming South Australian economy, and today's State Budget includes major funding initiatives aimed at driving the visitor economy and creating jobs.

During the past four years, the State Government has invested more than $70 million to market South Australia interstate and overseas. This investment has played a significant role in building a record $6.3 billion visitor economy, with the most recent IVS figures showing international visitors injected a record $1.1 billion in South Australia in the past year.

This Government's investment in tourism and the visitor economy will continue, with the following key announcements made today:
$14.5 million boost to the Events and Convention Bid Fund over the next 4 years. The hugely successful events and convention bid funds were first established in 2014-15 and have so far delivered 38 leisure events and 63 conventions contributing a total economic benefit of nearly $500 million for our State. The additional support brings the overall commitment for the Bid Fund initiative to $52.5 million from 2014-15 until 2020-21.
$200 million for a Future Jobs Fund to drive employment growth. As part of the fund, businesses and non-government organisations are invited to apply for $50 million in grants and $70 million in low interest loans to help develop globally competitive industries. Early applications will now be accepted for the Future Jobs Fund grants and loans via www.treasury.sa.gov.au The South Australian Investment Attraction Agency (IASA) will also receive an additional $60 million over four years to attract new businesses to the state, promote job creation and develop key industry sectors.
An additional $8.1 million to build on the success of the $109 million Job Accelerator Grant program which provides grants of up to $10,000 over 2 years to eligible businesses employing a new worker. To boost the employment of more young people, grants of up to $15,000 will be available to eligible businesses to employ an apprentice or trainee. Businesses can register at www.revenuesa.sa.gov.au/jobs
$45 million to introduce the lowest small business payroll tax rate in the nation. From 1 July 2017 small businesses in South Australia with payrolls between $600,000 and $1 million will pay 2.5% - down from the general rate of 4.95%. For businesses with payrolls between $1 million and $1.5 million the payroll tax rate will progressively increase from 2.5% to 4.95% and businesses with a payroll of more than $1.5 million will pay 4.95%.

These additional funding measures demonstrate the Government's ongoing commitment to and support of the tourism industry. We will continue to work with you to grow the visitor economy. We are smashing tourism records year on year, and I look forward to this continuing.

Growing the visitor economy will benefit our tourism operators, creating more jobs for South Australians and ultimately help in strengthening our State's economy.

More information on the budget can be found at www.statebudget.sa.gov.au