PRESS RELEASE: Aarhus announced as host destination for Routes Europe 2024
The region's leading route development event is heading to Denmark next year.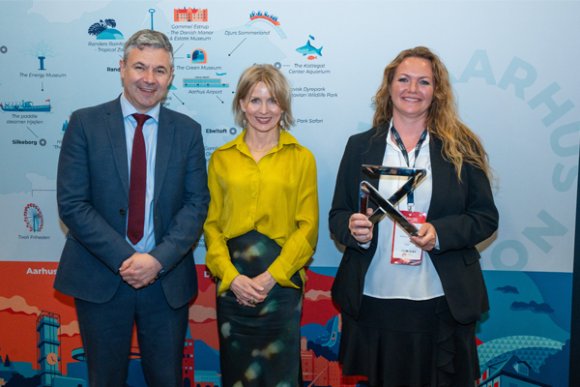 Routes Europe, which is held in a different location each year, brings together airlines, airports and tourism authorities to drive European air service development and continue to fuel the region's aviation market growth. Over 4,000 meetings are expected to take place at next year's edition of the event which will be pivotal in shaping the continent's future air connectivity.
Hosting the event for the first time, Aarhus Airport and VisitAarhus will welcome Europe's aviation industry to one of Denmark's oldest cities from 22-24 April 2024 for the 17th Routes Europe.
Aarhus Airport serves the Greater Aarhus metropolitan area which is the fifth-largest market in the Nordic region. Delegates attending Routes Europe 2024 will be able to experience the all-new Aarhus Airport boasting brand new terminal and an in-airport hotel. The airport also offers rapid access to the centre of Aarhus, Denmark's second-largest city, where visitors can experience cosmopolitan shopping boulevards, world-class museums and internationally award-winning tourist attractions.
The city has also had the fastest growing major inbound visitor economy in the Nordics for most of the last nine years, and it is still growing. Aarhus handles almost 70% of all Danish imports and exports as well as cruise ships in its city centre deepwater harbour, and has one of the largest freight capacities in Scandinavia at 12m tonnes annually. A fast growing and exciting major economy in Scandinavia, Aarhus is one of the happiest and most eco-friendly cities in the world.
Lotta Sandsgaard, CEO of Aarhus Airport; said "We are happy to have been chosen to host Routes Europe 2024 and look forward to welcoming delegates to Aarhus. We will do all we can to make sure all attendees have a unique and outstanding experience in our vibrant city, starting at our all-new airport terminal. After record breaking April passenger numbers, our market is fizzing with opportunity, underlining the fantastic development the city, economy and airport are going through. Delegates coming to Aarhus in April 2024 will discover our region's beautiful nature, culture, rich history, innovation and of course a world class Routes Europe event."
Steven Small, Director of Routes; said "We are thrilled to be taking Routes Europe 2024 to Aarhus, Denmark's vibrant second city. Aarhus boasts a thriving economy and is committed to promoting tourism and enhancing direct connectivity. The city's airport serves the fifth largest population in Scandinavia, and its modern new terminal has doubled its floor space, offering enhanced facilities for passengers. By providing a first-hand experience of the city and its surroundings to key decision makers from the region's airlines and airports, Routes Europe will serve as a catalyst for future growth."