Press Release: Flynas Launches RFP Through Routes 360 To Expand Route Network
Saudi Arabia's second-largest airline, flynas, has announced its plans to expand its route network by launching a Request for Proposal (RFP) through Routes 360.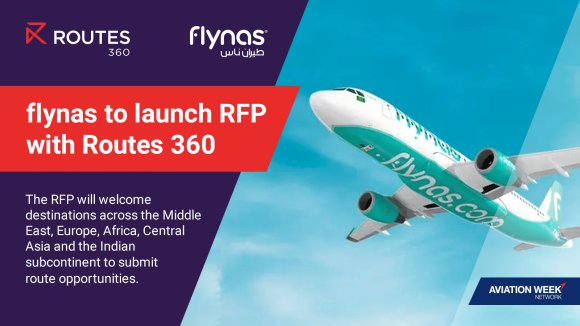 With a fleet that includes more than 30 Airbus A320neo aircraft and orders for additional A320neos and A321XLRs in the medium term, along with potential access to A330 capacity, the airline is seeking new destinations across the Middle East, Europe, Africa, Central Asia, and the Indian subcontinent.
During the summer 2023 season, flynas is operating more than 100 routes to 58 destinations. The carrier already serves various international regions, including the Middle East/GCC countries, North Africa, India, Pakistan, and the CIS region, with seasonal routes into Southern, Eastern, and Central Europe.
Destinations of particular interest are ones that cater to business purposes, religious traffic, and inbound/outbound tourism. The airline has a track record of successfully stimulating new markets and is willing to invest in and support both major cities and niche locations as part of the RFP process.
Ben Burge, vice president of network planning and scheduling at flynas, said: "flynas is delighted to be working with the Routes 360 platform in launching an RFP to grow our operations in the Middle Eastern, North African, European, and Central/Southern Asian regions over the coming years.
"With a substantial confirmed orderbook of Airbus aircraft, we are open to considering a wide range of new route operations and are keen to develop meaningful long-term relationships with both airports and destinations across this wide geographical area.
"We strongly believe that the RFP hosted on Routes 360 will be the most effective way of identifying, considering, and choosing the most suitable opportunities."
As the only digital membership product designed specifically for the route development community, Routes 360 offers flynas the opportunity to evaluate proposals from a range of airports in an efficient and standardised way.
Over 350 airlines, airports, destinations and suppliers utilise the platform to identify new route opportunities, access industry insight and communicate their marketing messages.