Battle for Japan - new Haneda slots for flights to Australia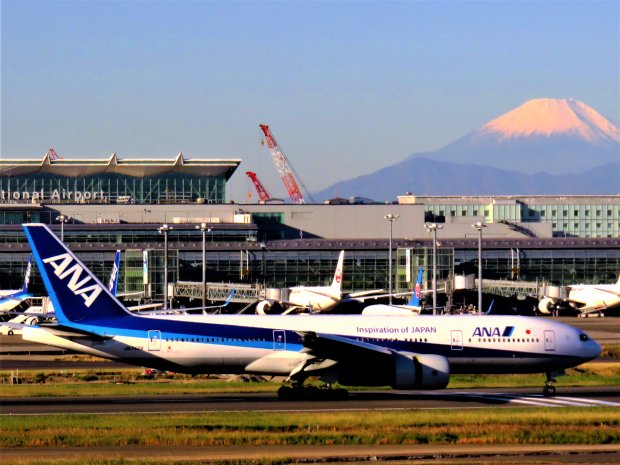 Risks and opportunities for direct and indirect carriers
The Japanese and Australian authorities in 2019 have allocated 4 slots from Tokyo's Haneda airport for two Japanese flights (All Nippon Airways - NH and Japan Airlines - JL) and two Australian flights (Qantas - QF and Virgin Australia - VA), effective from 29 March 2020. These slots were hotly contested given constraints at Haneda and supplements the two existing Haneda – Sydney slots for NH and QF. The new slots will change the dynamics of the Australia - Japan market and presents risks and opportunities for both direct and indirect carriers between the two countries.
Background - Tokyo's Haneda and Narita Airports
Haneda is the closest airport to Tokyo city (approximately 20km), while Narita is 60km away. In Australian terms, it is like comparing the distance between Tullamarine and Avalon to Melbourne city. While Narita is more well known to international travellers, Haneda's shorter distance and better public transport connections attract a premium for business and leisure traffic.
Haneda is also the best-connected domestic airport in Japan and is seeing more international flights with the opening of additional slots for both short and long-haul flights. As more inter-continental carriers relocate from Narita to Haneda, Haneda is proving its worth for international connections as well.
Airline business strategy comparison
The four full-service airlines have differing strategies for the Haneda services, based on their market positions and business models.
VA is a new entrant to the Japanese market, and even though it had previously sold seats on SQ operated flights, it had historically a low market share, particularly with Japanese passengers. Its brand awareness is much higher in Australia, and so its late morning flight from Brisbane allows same day connections from its other ports in Australia and the South Pacific.
Prior to VA's entry Brisbane was the only "Big 3 – Sydney/ Melbourne/ Brisbane" Australian city with a monopoly service to Tokyo, operated by QF. As JL and NH was unlikely to use the Haneda slot for Brisbane, there was an opportunity for a second carrier from Brisbane, though its two million population would struggle to serve three carriers.
JL operates a low-density Boeing 787 from Tokyo to its key business / premium markets in Sydney and Melbourne. Its aircraft have the widest economy class seats as well as a high percentage of premium economy/ business class seats. While it along with QF are members of oneworld, they do not codeshare on direct flights from Tokyo to Australia. Instead of adding a new flight, JL has chosen to move its Sydney flight from Narita to Haneda. With an early morning departure from Sydney, JL allows same day connections for its Sydney passengers in Haneda to other ports in Japan. JL is also up-gauging its 787 to a 777 from September. The 777 is the only service from Australia with First Class seating, further cementing its hold on the premium market.
NH was driven by aircraft utilisation, connectivity and business markets in selecting the second Haneda slot for the Sydney service. From March NH offers 2 daily services from Sydney to Haneda, reducing idle ground time for its 787 aircraft and maximising aircraft utilisation.
NH will operate a night and midday departure from Sydney. The night service offers excellent same day connections from other Australian ports (behind markets) as well as same day connections in Japan and the rest of the world (beyond markets) with a morning arrival in Tokyo Haneda.
Having a double daily service provides customers choice between day and night flights in both directions, and also improves connectivity to its Japan and global network. A passenger missing the morning flight for example, only needs to wait 12 hours for the next flight, rather than 24 hours.
QF already has an existing Haneda slot for its Sydney service, which is timed within minutes of the NH night flight from Sydney to Haneda. Sydney is the most connected city in the QF network, with more frequent flights to Melbourne and Adelaide compared to Brisbane. It also operates direct flights to South America and South Africa, allowing passengers to fly between these two continents and Japan without going through the United States or Asia respectively.
QF, like JL, has chosen to move a Narita flight to Haneda, instead of adding a new flight, possibly in recognition of potential oversupply with the four new slots. As NH has announced plans for a double daily service from Sydney to Haneda, QF has chosen not to add supply to the Sydney market, but rather move its Melbourne flight from Narita to Haneda. It will retain the daytime departure from Melbourne, while JL has a night departure from Melbourne to Tokyo Narita.
Demand and supply situation
Demand for seats between Australia and Japan has grown significantly since 2011. In the five-year period to 2016, there was a 300% increase in Australian traffic, from 126,400 visits in 2011 to 358,500 in 2016. This trend is continuing, though it is new city pairs (e.g. Perth to Tokyo) that is likely to tap unmet demand, rather than existing city pairs (e.g. Sydney to Tokyo).
Demand from Japan to Australia has also increased, but at a slower rate. Currently Australia to Japan inbound makes up around 55% of the market, but this is a higher percentage for Australia to Sapporo, compared with Australia to Tokyo.
This Southern to Northern hemisphere route is also characterised by seasonal variations. For example, from December to February, the route is dominated by the ski market from Australia to Japan, while in August the Japanese summer holidays see more than 50% of the seats taken by Japanese holiday makers flying to Australia. Historically, August is a weak month for Australian traffic to Japan.
When looking at the supply of seats for outbound flights from Australia to Tokyo, one metric to bear in mind is the number of daily seats per million passengers. Where the propensity to travel is similar between cities (e.g. demographics, distance to destination, disposable income), as it is between Melbourne and Brisbane, then it could be argued that a city that is twice as large would support twice the number of seats.
Once the new flights to Haneda are operational from late March 2020, there will be 572 daily seats from Brisbane to Tokyo. On the other hand, daily seats from Melbourne to Tokyo will remain the same at 430. All services are operated with wide body aircraft. However, the low density JL Melbourne Boeing 787-800 has less seats than the VA Brisbane Airbus 330-200 service, accounting for the lower number of seats from Melbourne.
As Melbourne has twice the population as Brisbane (4 million vs 2 million), then the number of daily seats for Melbourne would be 107 per million residents, while for Brisbane it is 286 per million.
Also, while both cities have double daily services, the Melbourne services have morning and midnight departures, while the Brisbane services (QF and VA) operate within three hours of each other.
Of course, looking at number of daily seats per million people is only one metric to measure the demand and supply of a city pair, and it will not give a complete picture. Competing markets, inbound traffic demand and connectivity of the flight are also important metrics. VA, for example will aim to funnel traffic from its network into Brisbane, as this is its only flight into Japan. Brisbane is also the closest "Big 3" Australian capital city to Japan, compared with Melbourne and Sydney. On the hand, the other three airlines operate to multiple cities.
Risks and opportunities
Connections via Tokyo Haneda
While Tokyo has the lion's share of traffic between Australia and Japan, its 20 million population makes up one sixth of Japan. Secondly from a tourism viewpoint, it competes with destinations like Hiroshima, Kyoto, Osaka, and Hokkaido for Australian visits.
As the Australia to Japan tourism market matures, repeat travellers will take up a larger percentage of seats flown. Repeat travellers are more likely to visit secondary cities in places like Okinawa, Kyushu and Shikoku. Currently, the two direct services from Brisbane to Tokyo do not allow same day connections to more distant secondary cities like Fukuoka or Okinawa. A passenger from Brisbane to Okinawa for example will need to overnight in Tokyo, and not arrive in Okinawa until 28 hours have lapsed from their departure from Brisbane. Indeed, none of the five flights from Queensland (Gold Coast, Brisbane, Cairns) to Japan (Tokyo, Osaka) allow same day connections as they are all mid-morning / midday departures from Australia and arrive too late in the evening in Japan. Therefore, subject to slot and other operational constraints, having one of these five flights to be retimed to significantly reduce connection time for beyond markets in regional Japan. Until that occurs, indirect carriers operating via Asia are likely to remain competitive on secondary city routes (e.g. Adelaide to Fukuoka, Brisbane to Osaka), instead of Brisbane/Sydney/Melbourne to Tokyo.
Haneda's increasingly attractive connectivity for international flights provide another opportunity for flights from Australia. A night departure from Australia will arrive in the morning in Haneda, allowing a short layover before a morning connection for a flight to Europe. Virgin Atlantic (VS), for example, used to operate from London to Narita. If its bid for a London to Haneda slot is successful, then it could connect with VA's Brisbane service. It is shorter to fly from Brisbane to London via Tokyo, compared to Singapore, and so a Virgin operated flight from Brisbane to London could be attractive, provided that the connection time between the two flights are minimised.
Codeshare / sale strength in both markets
As demand for this route is almost evenly split between Australian and Japanese sources, having a strong brand awareness and distribution network is key to optimising load factors and revenue. For VA, not having a strong presence in Japan previously means that its codeshare arrangement with NH (scheduled for June 2020) is key.
Further, seasonal variations in traffic means that airlines cannot rely on its home market to optimise load factors. For example, low demand from Australia to Japan in August is countered by high demand from Japan to Australia, due to summer holidays in Japan. A strong market presence in both markets is key to sustained profitability of this route, particularly where there is a risk of over-supply.
Of course, it is possible to operate this route successfully without a codeshare arrangement, as NH, QF and JL has demonstrated in the recent years to date. NH, for example have heavily invested in building its brand in Australia since its re-entry in 2015, including signing on Adam Liaw as an ambassador chef. NH also has the advantage of its Star Alliance membership, something that VA does not have. Now that the Australia – Japan market has matured and is at risk of being saturated in the medium term, the codeshare partnership between VA and NH would provide benefits for both Sydney and Brisbane markets.