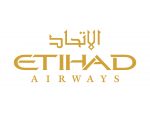 Status update: "is attending Routes Asia 2014"
Facts (Overview)
Etihad Airways, the national airline of the United Arab Emirates, has established itself as the world's leading airline in just eight years.
Set up by Royal (Amiri) Decree in July 2003, Etihad commenced commercial operations in November 2003 and has gone on to become the fastest growing airline in the history of commercial aviation.
Abu Dhabi, the capital of the United Arab Emirates, is the airline's hub. From here, Etihad's fleet of 62 aircraft serve an international network of 78 destinations in 51 countries. The airline's fleet includes 55 passenger aircraft operating more than 1,100 flights per week, and 7 freighter aircraft operated by Etihad Crystal Cargo. Recent new route announcements will see Etihad's network grow to 84 destinations by April 2012.
The airline seeks to reflect the best of Arabian hospitality – cultured, considerate, warm and generous – as well as enhance the prestige of Abu Dhabi as a centre of hospitality between East and West.
Etihad has received a range of awards that reflect its position as the leading premium airline brand in the world, including 'World's Leading Airline' at the World Travel Awards in 2009 and 2010.
In 2011, Etihad was awarded 'World's Best First Class', as judged by over 18 million air travellers worldwide in the annual Skytrax survey.
Etihad's 2011 awards to date include:
2011
• World's Best First Class – Skytrax Awards
• World's Best First Class Onboard Catering – Skytrax Awards
• Leading Airline – World Travel Awards Middle East
• Leading Airline First Class – World Travel Awards Middle East

• Leading Airline Inflight Entertainment – World Travel Awards Middle East
• Leading Cabin Staff – World Travel Awards Middle East
• Web Excellence, Airline category – Pan Arab Web Awards
• Best Co-Branded Card in the Middle East – Smart Card Awards Middle East
• Best Economy Class – Monitor Airline of the Year Awards, Bangladesh
• Best Economy Class – Monitor Airline of the Year Awards, Bangladesh
• Best Meal in Economy Class – Monitor Airline of the Year Awards, Bangladesh
Figures
There are currently no figures available
Contacts

Vijay Poonoosamy

VP International Affairs

Ahmed Aly

Manager Network Analysis

Events
Last updated: Dec 06, 2012
Last updated: Nov 21, 2011
Last updated: Feb 28, 2011
Back to Top