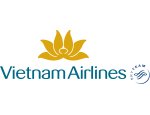 Organisation Type:

Full Service / Network

ICAO:

HVN

IATA:

VN

Website:

Country:

Vietnam
Status update: "is attending World Routes 2013"
Facts (Overview)
Vietnam Airlines (VN) is a national flag carrier that was established in 1993. It was allowed to be an IATA member since 2006. In June 2010, VN officially joined SkyTeam Alliance as a full member.
In 2011, Vietnam Airlines carried more than 13.5 million passengers in total (international 4.8 million, domestic 8.7 million), 10.5% increase from 2010. The passengers flown was 21 billion pax.km, up 10% more than 2010 also.
Up to Winter Schedule 2011, VN operates 47 routes to 27 international destinations and 37 routes to 20 Vietnam domestic destinations.
Vietnam Airlines' target is to become the second largest airline in Southeast Asia by 2020. At that time, we will be a network carrier, operating 84 routes to 45 international destinations. In domestic market, a new feeder airline will be founded, operating also all Indochina and other regional routes.
Figures
There are currently no figures available
Last updated: Dec 06, 2012
Last updated: Oct 2, 2013
Last updated: Mar 21, 2012
Last updated: Mar 21, 2012
Back to Top