SKY Airline unveiled an unprecedented expansion in Latin America, marking its entry into Uruguay with the introduction of four new routes departing from Montevideo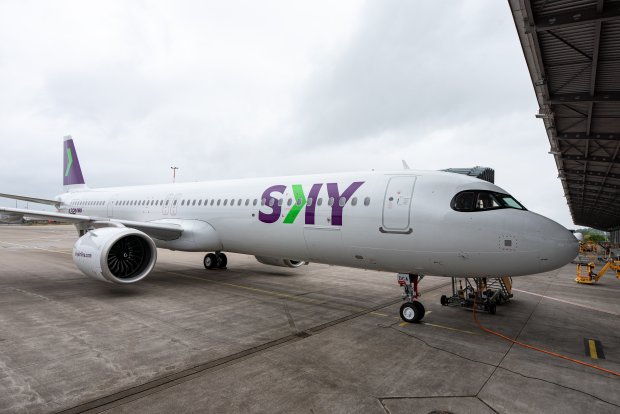 The airline announced four new international routes, linking Montevideo with Santiago de Chile, Lima, Salvador de Bahía and Florianópolis
Montevideo, August 31, 2023.- SKY Airline announced together with the Ministry of Tourism of Uruguay four new international routes, linking Montevideo with Santiago de Chile, Lima, Salvador de Bahía and Florianópolis. This significant expansion includes also excellent connections to Cancún, Punta Cana and Cusco through its Peruvian hub.
As of January 2, 2024, Salvador will become the fifth city in Brazil served by the airline, with direct flights to Montevideo, which then follow on the same aircraft to Santiago, three times a week.
At the same time, a direct flight will be launched from Florianópolis to Montevideo, the capital of Uruguay, with a connection on the same plane to Lima, Peru, also three times a week and from January 2, 2024. With this new route, SKY becomes the most important foreign airline in the State of Santa Catarina, linking Florianópolis with 3 international cities.
In addition, passengers will also be able to fly from Santiago to Salvador and from Lima to Florianópolis with just a short layover in Montevideo.
Sky Airline is the only low-cost airline in Latin America with IOSA safety certification (from IATA), industry-leading in punctuality, with a fleet composed in a 100% with Airbus neo aircraft, and the youngest aircraft fleet in the Americas, among other prestigious distinctions.
The expansions will provide affordable options and extending its network to over 40 destinations across the Americas.
Julio Solar, deputy director of strategic planning at SKY Airline, added that "our network development considers a holistic view of the industry and addresses two key concepts of our strategic map: to be Latin America's preferred airline and make the sky accessible to all. SKY has today the highest load factors in the industry, which shows a preference for our product. In this regard, these new routes we present today are a unique opportunity for our network expansion"
About SKY Airline
SKY is a low-cost airline with a 22-year history with a presence in 9 countries considering the new operations in Uruguay. The airline operates domestically and internationally through its subsidiaries in Chile and Peru.
In 2022, the carrier was recognized as the best low-cost airline in South America by the international consulting firm Skytrax. Moreover, for the third consecutive year in 2023, the company received the recognition from CH-Aviation as the airline with the newest fleet in The Americas and the fourth worldwide.
SKY stands out as the only airline globally with an exclusively comprised fleet of Airbus A320 NEO and A321 NEO aircraft, reducing CO2 emissions per seat by 60% since 2010.