Sweden is first Scandinavian destination from Cambridge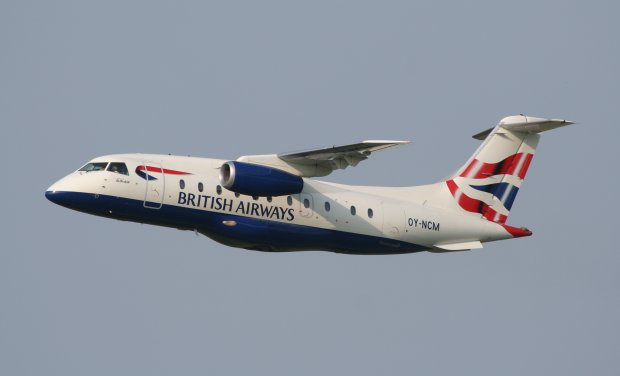 Flights to Gothenburg commence in March by SUN-AIR, flying as British Airways scheduled service
17 February 2015 – Cambridge International Airport today welcomed the announcement that SUN-AIR will be launching scheduled services from Cambridge on Monday 2 March, when it begins Monday to Thursday daily flights to Gothenburg, Sweden.
The new route, announced this morning, has been set up in conjunction with leading Anglo-Swedish pharmaceutical company AstraZeneca, which will be taking seats on each flight to connect staff from its new global headquarters in Cambridge with those based in its other key European hub of Gothenburg. SUN-AIR of Scandinavia has operated regional routes for British Airways since 1996 and will be flying under the British Airways brand.
In addition to AstraZeneca's link, Cambridge and Gothenburg have many synergies: both cities are economic hubs, attractive tourism destinations, and home to substantial businesses in the life science and medical research, bio-pharmaceutical, IT, automotive and technology sectors, as well as fashion and further education.
"We've worked closely with Cambridge – its major businesses and the airport – to bring this niche but valuable market opportunity to life", said Kristian Tvergaard, commercial director at SUN-AIR. "We very much look forward to establishing ourselves in Cambridge, the East of England and servicing valuable business customers in both Sweden and the UK with our excellent in-flight hospitality".
David Surley, head of business & route development at Cambridge International Airport, commented: "We are delighted with the news from SUN-AIR. Scandinavia is a most compelling origin and destination market for Cambridge, with strong demand for both tourism and business travel; many companies in this region enjoy excellent trade relations with the Swedish. In fact, this new service by SUN-AIR will connect our region with, statistically, one of the most important international economies. We are delighted to see Gothenburg become our first Scandinavian destination, it will certainly support major business operations here and continue to stimulate important inbound tourism."
Since 2010, according to international data published by Visit Britain, Cambridge has become the 4th highest volume market for visitors from Sweden to regional English cities, while for international business travellers it demonstrates the 3rd highest volume of Swedish inbound visitors.
"Sweden is an important new economic link for East England", commented Taus Nohrlind – chairman at the Institute of Directors (IoD) in Cambridgeshire; "and especially so for Cambridge. As the most important Scandinavian market to the region, it accounts for more inbound business visits than Denmark, Norway and Finland combined. 55% of travellers from Sweden to Cambridge are business travellers, the highest percentage of any major international market and twice the average business share of international visitors to Cambridge."
A vibrant modern city with a metropolitan population of almost 1 million, Gothenburg (as with Cambridge) also has much to offer tourists. Sweden's second city is a thriving cultural hub with a laid-back feel, filled with museums, galleries, cafés and shops. Internationally acclaimed for its world class restaurants and seafood, Gothenburg is also the gateway to the dramatic coastline of West Sweden and boasts its very own easily-accessible archipelago with picture-postcard fishing villages.
"You can't get away from the significance of Scandinavia to our region's economy", stated Emma Thornton, head of tourism in Cambridge, "this is an important market for our city and region. Since 2010 our data shows that Swedish overnight visits to East England increased by 30% while in 2013 alone this was 25%, compared to 5.3% across the board. This makes Sweden an excellent opportunity for us as spend by inbound visitors to the county overall has increased 17% since 2010 and the Swedish offer exceptional further business and leisure tourism potential. This is excellent news from SUN-AIR."
Flight BA8235 will depart Cambridge at 07:00 each morning and arrive 10:00 at Gothenburg's Landvetter International Airport. Flight BA8236 from Gothenburg will depart at 18:00 each evening, arriving in Cambridge at 19:00, Monday to Thursday. It will be serviced by fast and comfortable 32-seat Dornier 328 regional jets.
Passengers travelling with SUN-AIR through Cambridge International Airport's newly refurbished terminal will enjoy a spacious and relaxing hotel-style departure lounge, including a Costa Coffee bar and snacks, complimentary Wi-Fi and short check-in times, as well as the VIP JETability Lounge for applicable British Airways Gold and Silver card or oneworld frequent flyers. The airport is located only three miles from Cambridge city centre and offers on-airport car parking and good public transport access. It is also close to all major road networks, meaning regional centres such as Peterborough and Ipswich are easily reached within an hour.
Flights are now bookable and further information available at www.ba.com