Sanitisation cabin operational at Milan Bergamo Airport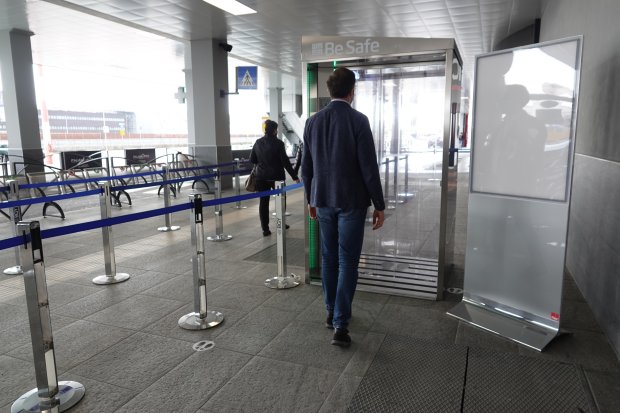 Milan Bergamo Airport, under the management of SACBO, has adopted additional equipment and updated procedures with regards to health safety protocols aimed at combating COVID-19 in light of the gradual recovery of passenger flow.
At entrance door 4 of Milan Bergamo Airport, the only entrance to the terminal, a sanitisation cabin has been installed, developed by the Bergamo-based company WMEM as part of the "Be Safe" project in collaboration with other companies in the area. It is a personal sanitisation device that has already seen application during the 2021 Alpine World Ski Championships in Cortina and has been studied to reduce the surface bacterial and viral load of people and personal items (clothes, bags, luggage, shoes, glasses) that come into contact with the sanitisation mist.
The sanitisation process takes place through the atomisation of a non-toxic, 100% natural and biodegradable product (Sanapur), which creates a cold mist that acts rapidly; 8 to 10 seconds. The sanitisation particles are fragmented into millions of microparticles and do not damage any electronic equipment, leaving the person completely dry, unlike standard nebulisation systems.
People accessing the terminal are not obliged to use the sanitisation cabin, as it is proposed as an optional precaution.