14 new routes at Milan Bergamo Airport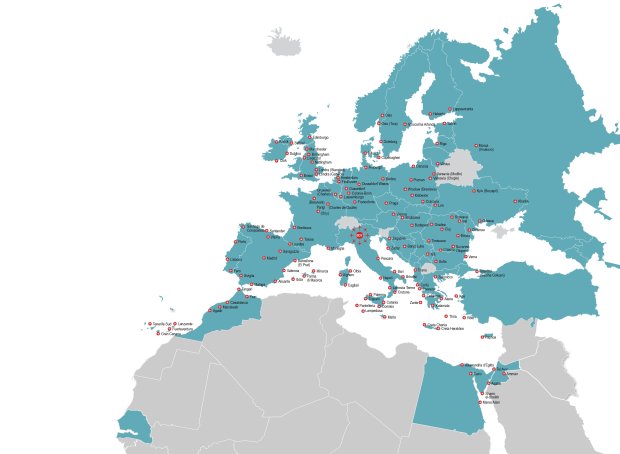 Milan Bergamo Airport announces 13 new routes this winter
The 2021 winter season , which begun on Sunday 31 October 2021, led Milan Bergamo Airport to offer its widest winter route network ever, with a total of 117 destinations in 39 countries. Such offer reflects the optimism shown by 17 scheduled carrier operating this winter at Milan Bergamo Airport.
Eurowings, Vueling, HiSky and Flyr are the four new carrier that Milan BGY welcomes with this season.
14 are the new routes opened ( and to be open ) during this season.
The first four started on Sunday 31 October, with Ryanair inaugurating flights to Düsseldorf Weeze, Helsinki and Birmingham, and easyJet opening the route to London Gatwick.
On November 1st, Ryanair also begun another two important routes to Liverpool and Toulouse.
The sixt Ryanair's new route has been Stockholm Arlanda on November 2nd.
In the same day Vueling inaugurated its first flight from Paris Orly with an Airbus A321, further boostering capacity to the French capital in additition to easyJet to Paris Charles de Gaulle and Ryanair to Paris Beauvais. The Spanish carrier will also fly between Milan BGY and Barcelona during the Christmas period.
Another milestone of Winter 2021 season is arrival of Eurowings at Milan BGY with a 4-weekly flight to Dusseldorf International (DUS)
The next important date is 3 December, with the opening of Ryanair flights to Banja Luka, the welcoming monumental city in Bosnia Herzegovina situated 159 km from Sarajevo.
On December 20th the third new airline of the season (HiSky) will start its operation at Milan Bergamo with a twice-weekly service to Tirgu Mures (TGM) and Baia Mare (BAY) to which will follow the opening of the Chisinau (KIV) route on Dec. 24th
Last but not least, on January 5th 2022 there will be the debut at Milan Bergamo Airport of the new Norwegian airline Flyr, which will be operating the route to Oslo-Gardermoen airport.
Photo credits: SACBO Milan Bergamo Airport