Bahrain Airport Company and SITA sign agreement for new technology biometric at Bahrain International Airport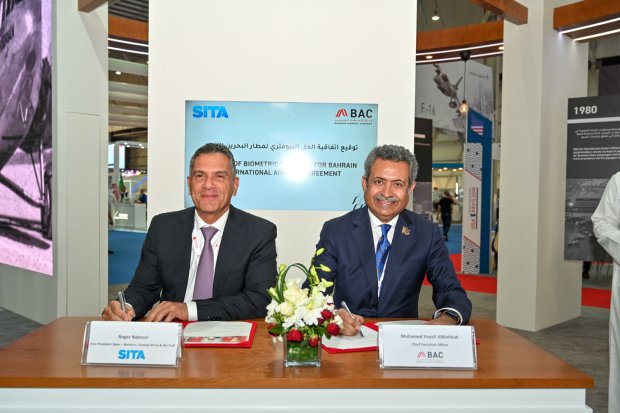 Bahrain Airport Company (BAC), the operator and managing body of Bahrain International Airport (BIA), and SITA, a leading IT provider for the air transport industry, signed an agreement to introduce new biometrics technology at BIA that will allow passengers to use their faces as their boarding passes. The technology will not only make passenger processing faster and more efficient but will also add an extra level of security.
BAC Chief Executive Officer Mohamed Yousif AlBinfalah signed the agreement alongside SITA Vice President Sales Roger Nakouzi on the second day of Bahrain International Airshow 2022. In attendance was BAC Vice President of Information, Communication, and Technology, Mahmood Al Siddiqi, and other officials from both companies.
BAC CEO Mohamed AlBinfalah said: "BIA is the most technologically advanced, efficient, and sustainable boutique airport in the Middle East. Its state-of-the-art ICT systems and infrastructure are designed to enhance efficiency, improve security, and meet passengers' growing expectations for a more seamless airport experience. Introducing this new biometric solution will further enhance the passenger experience, enabling travelers to pass through checkpoints faster and with less staff involvement, while ensuring every passenger who boards is who they say they are, with no room for human error."
Hani El-Assaad, President of Middle East & Africa (MEA), SITA, said: "We're excited to collaborate again with BIA by implementing our industry-leading SITA Smart Path biometric solution, a whole-journey identity management solution where a passenger's face becomes their boarding pass. Once biometrically enrolled, there's no need to show a passport or boarding pass or touch a device again. From easy check-in at the kiosk to gate access and boarding, the solution will integrate into BIA's existing systems, enabling them to process more passengers more efficiently. It also allows airport real estate to be used more effectively, improves social distancing among passengers, and offers greater operational efficiency and visibility for BIA's stakeholders."