Bahrain Airport Company and Thales-SITA renew partnership at Bahrain International Airshow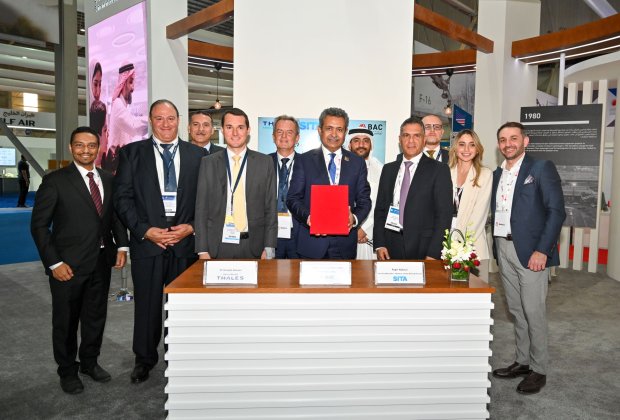 Bahrain Airport Company (BAC) and Thales-SITA, a consortium specializing in airport operations and communications systems.
Bahrain Airport Company (BAC) and Thales-SITA, a consortium specializing in airport operations and communications systems, signed an agreement for the provision of support and maintenance services for Bahrain International Airport (BIA). This will cover mission-critical systems relevant to airport security and operational passenger processing.
BAC Chief Executive Officer Mohamed Yousif AlBinfalah signed the three-year agreement alongside Thales Vice President Sales Roger Nakouziand SITA Country Director Christophe Ravoire during the second day at Bahrain International Airshow. In attendance were BAC Vice President of Information, Communication, and Technology Mahmood Alsiddiqi, and other officials from both companies. The new agreement comes into effect in January 2023 following the expiration of the current two-year contract, reaffirming the long and strategic partnership between the companies.
BAC CEO Mohamed AlBinfalah said: "We are pleased to renew our partnership with Thales-SITA, which has provided advanced solutions for BIA for the past two years. This brings us another step closer to realizing the Kingdom's digital transformation goals and ensuring BIA continues to operate with modern and reliable mission-critical systems that optimize performance, allowing us to make faster and more informed data-driven decisions."
Christophe Ravoire, CEO of Thales in Bahrain, said: "Thales has been awarded – alongside SITA- by BAC for the additional 3 years maintenance contract of the security and operational systems. Thales is honored that, BIA, which is recently awarded as the best new airport in the world by Skytrax, confirms the long-term commitments and trusted partnership with us. At Thales in Bahrain, we are proud to support the Kingdom's Economic Vision 2030 and its ambition to develop a more digital, knowledge-based economy with distinguished infrastructure, and strong local industrial technology."
Hani El-Assaad, President, of Middle East & Africa (MEA), SITA, said: "We've enjoyed a successful and long-term partnership with BAC, collaborating on new technology projects to drive greater efficiencies, smarter passenger processing, and more agile resource management. We're excited to renew this partnership and look forward to delivering the latest innovative solutions to optimize airport operations and boost passenger experience across the journey."
BIA is the most technologically advanced, efficient, and sustainable boutique airport in the Middle East. Its state-of-the-art ICT systems and infrastructure are designed to enhance efficiency, improve security, and meet passengers' growing expectations for a more seamless airport experience.