Aarhus - European Capital of Culture brings 300% return on investment and 2,000 new jobs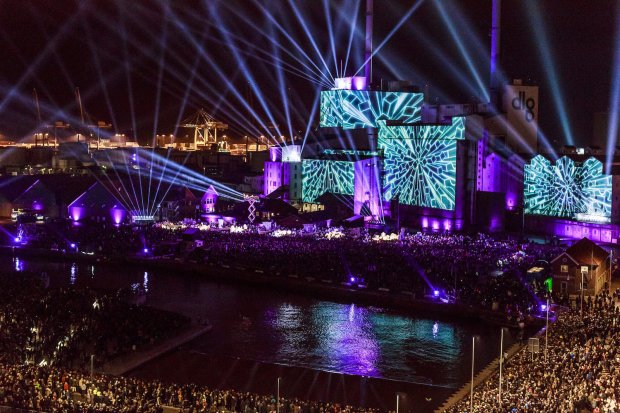 Airport sees surge in international passengers of 77%
In late April, Aarhus 2017 Foundation leadership presented the short term economic findings and impact report from the city's recently concluded year as European Capital of Culture. In welcoming a raft of highly positive economic results and visitor measures reported, Jacob Bundsgaard – Mayor of Aarhus & Chair of Aarhus 2017 Foundation states, "awareness of our city has increased significantly, as has our citizens' pride", as he referenced just some some of the many successes.
In a detailed look at how the city's year in the European spotlight had more than achieved the targeted social, economic, cultural and organisational goals, Rebecca Matthews – CEO of Aarhus 2017 Foundation presented significant achievments versus expectation in almost all areas and many highly positive economic results of the city's investment. "Aarhus 2017 was the culmination of many years of hard work, but at the same time it is just the beginning of something powerful and sustainable, something that will continue to deliver value to the people of Aarhus and our region, for many years to come. We could not have wished for a better legacy", she explained.
Already Aarhus Airport has seen a Q1 2018 rise in customer throughput of +37% international passengers. In the last month – April – the airport has reported a sharp acceleration in growth, surging to +77% increase in international passengers, almost +18% domestic traffic and overall +39.6% passenger footfall. SAS has opened six new services since March, including Munich, Oslo and Nice in addition to growth by Ryanair. Further SAS expansion occurs in June and easyJet will be a new carrier commencing operations at Aarhus from September.
In summarising selected outcomes extracted from the now published short term economic report by Aarhus 2017 Foundation, key results focused on higher than expected visitor growth and numbers, in overnight stay figures, audience sizes and the extensive related economic benefits felt not only in Aarhus itself, but region-wide. Overall, Aarhus 2017 generated an increase in private sector turnover of €159.1 million during 2017 and achieved fundraising of €14.9 million. A volunteer sector over 4,500 so-called ReThinkers contributed as well as over 6,000 volunteers for The People's Opening; an epic launch ceremony choreographed by Olympic-experienced direction for a public audience of over 76,000.
In total, Aarhus 2017 featured 13,708 event days and 442 core projects, achieved over 27,700 media mentions in over 70 countries worldwide, generating almost 100,000 social media followers and €87 million associated advertising value. European Capital of Culture events welcomed 3.3 million audience visits and contributed to a staggering 11.2 million overnight stays in Aarhus and the surrounding region. The average attendance at the city's four "MEGA events" was 196,722 including 94,000 attending the hit Viking stage spectacle, 'Røde Orm'. Over 1.2 million visited the Aarhus 2017 website along with 5.2 million video downloads. The targeted increase in five-year overnight visitor stays (2013-2017) of 33% was significantly exceeded, as Aarhus achieved 50% growth rate, of which a 52% increase in international tourists surpassed the targeted 45%. Aarhus holds the highest tourism growth trend in Scandinavia. In total, the return from public investment in the project stands at 300% and 1,965 new full-time jobs have been created.
In his conclusion, Aarhus Mayor – Jacob Bundsgaard stated, "Aarhus 2017 was only the beginning".
(Data & source for Aarhus 2017: http://www.aarhus2017.dk/en/welcome-future/publication)
Image: Aarhus 2017 Foundation