Ryanair adding new sunshine flights from Aarhus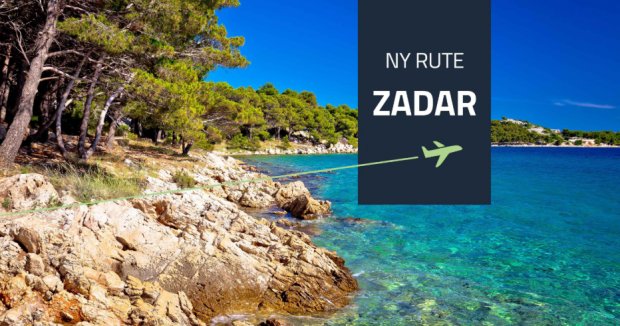 Europe's low-cost leader top open direct mainland Danish ink to Croatia
New twice-weekly service between Aarhus and Zadar will be the largest capacity route from Denmark to the coastal Dalmatian city when it takes flight in May, thanks to Ryanair.
"Croatia has become a very popular holiday destination for the Danes, we are hugely pleased that Ryanair is opening a brand new route to Zadar from Aarhus as the Dalmatian coastline has soared up the hit-list of cool and trendy places that our market wish to discover", says David Surley, head of airline relations at Aarhus Airport.
Zadar is a holiday pearl on the Adriatic coastline of Croatia, from where daily boat trips go to hundreds of surrounding islands just offshore from the UNESCO listed ancient city itself and where visitors can also find rushing waterfalls or take a kayak trip on the idyllic river Zrmanja with its crystal clear water . The city offers atmospheric streets, historic buildings and a boardwalk, from which one can reportedly enjoy "one of the world's most beautiful sunsets" according to the writer Alfred Hitchcock and in more recent times even hear the sea sing with the help of an art installation set in the city's shoreside stone staircase with 35 organ pipes.
Twice-weekly flights on Monday and Friday will be operated by Airbus 320 aircraft of Lauda - it is the first Lauda operation at Aarhus by the Irish carrier's Austrian-based division, marketed in the Ryanair brand as part of a three aircraft base Ryanair is set open in Zadar in 2020. Flights will land at Aarhus at 19:30 and return to Zadar at 19:55 each time, operating to the end of Otcober.
Ryanair recently confirmed further growth at Aarhus by adding capacity to it's Gdansk operation from late March. "It is great to see Ryanair expand here", said Surley, "they are a popular choice with travellers in mainland Denmark and the growth is very welcome among our customer base, as this city was Ryanair's very first point of service in Denmark. It is also always nice to welcome a new operating carrier and we very much look forward to seeing Lauda here at Aarhus for the very first time when flights commence on May 1st."
Service also operates between Aarhus and the Croatian city of Split, twice-weekly by Airbus A320/A321 of SAS Scandinavian Airlines. Zadar by Ryanair is the sixth new route announced from Aarhus for Summer 2020.