YesMilano launched the campaign "A new start. One step at a time"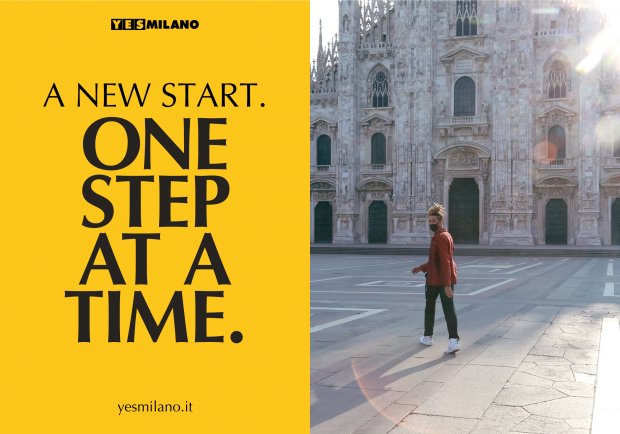 A video, narrated by the Italian singer, Ghali, invites citizens to respect the rules in the gradual reopening of the city of Milan.
The video lasts one minute. Starting on May 4th, it is diffused across the city, broadcasted on audiovisual communication channels and billboards, and shared on the social media channels of the Municipality, Chamber of Commerce, YesMilano and Ghali.
In the video five citizens are getting ready to leave their homes wearing the masks. It's dawn and their paths cross different areas of the city and some of the most famous and iconic venues of Milan as Meazza S. Siro stadium, Galleria Vittorio Emanuele II, the Darsena and the Teatro alla Scala.
The video is an invitation to face the end of the lockdown with caution, awareness and serenity: "we must be careful. Not afraid. We're masked, not blindfolded. We understand the value of freedom, together we are more human than ever before".
Watch the video with English subtitles: https://bit.ly/2WOIyD7
For more information: https://www.yesmilano.it/en/media-hub-new-start-one-step
*****
The YesMilano communication campaign launched today is a project by Milano&Partners, the promotion agency of the city of Milan, and is promoted by the Municipality of Milan and the Chamber of Commerce of Milan Monza Brianza Lodi.
"A new start. One step at a time" was conceived by TBWA \ Italia Group, produced by Tapelessfilm under the direction of Davide Gentile. TBWA \ Italia Group, Tapelessfilm, Davide Gentile, Ghali and all the other participants to the project contributed to the initiative free of charge as a gesture of support to the city of Milan.
For more information on the campaign please contact: info@yesmilano.it