Wizz Air announces new Italian domestic routes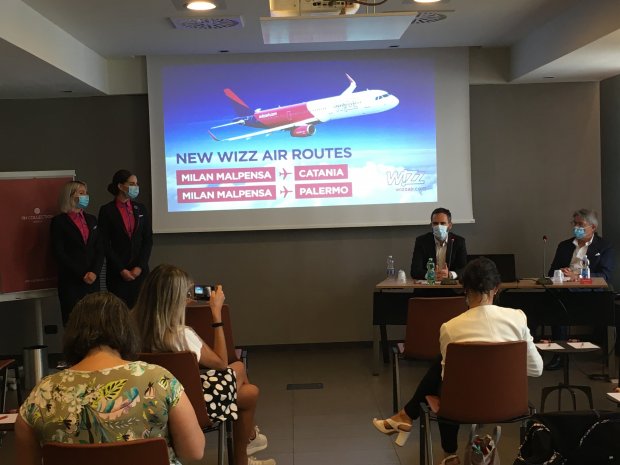 Double daily flights between Milano Malpensa, Catania and Palermo
Milan, 1 September 2020: Wizz Air announced today that it is launching double daily services between Milano Malpensa and Palermo and Catania as of 1 October 2020.
Domestic flights within Italy have been on Wizz Air's radar since opening its Milano Malpensa base and now Catania and Palermo are accessible twice a day with Wizz Air's low fares and ultra-modern aircraft fleet. The introduction of these much awaited services will enable domestic flights besides WIZZ's long established services to from Italy to the UK, Spain, Austria, Greece, Portugal, Iceland, Central-Eastern Europe and North Africa.
The further development of Wizz Air's offering from its Milan Malpensa base underpins the airline's long term commitment to bring even more affordable travel opportunities to its Italian travellers. The airline's extensive network of 37 routes to Milano Malpensa - will support local tourism both in Milan, Palermo and Catania, enable students to return to their universities, allow families to spend more time together and strengthen business ties.
Speaking at the press conference in Milan Malpensa today, George Michalopoulos, Chief Commercial Officer of Wizz Air said: "I am delighted to announce our newest routes from Milan Malpensa Airport to Catania and Palermo as we experience continuous demand for high quality but low fare air travel in Milan and the region. Our young, sustainable state-of-the-art Airbus A320 and A321 aircraft fleet, as well as our enhanced protective measures, will ensure the lowest fares, best possible sanitary conditions and the lowest environmental footprint for our passengers. Today's announcement underpins the airline's long term commitment to Italy as it expands its Italian route network adding domestic routes to its Italian offering."
Andrea Tucci, Vice President aviation business development of Milan Airports commented: "With this announcement, Wizz Air enriches the range of destinations operated by Milan Malpensa, confirming its willingness to invest in our airport with quality services for the benefit of the users. The bi-daily connections with Catania and Palermo will further improve connectivity and the economic recovery of the area ".