Milano: Design City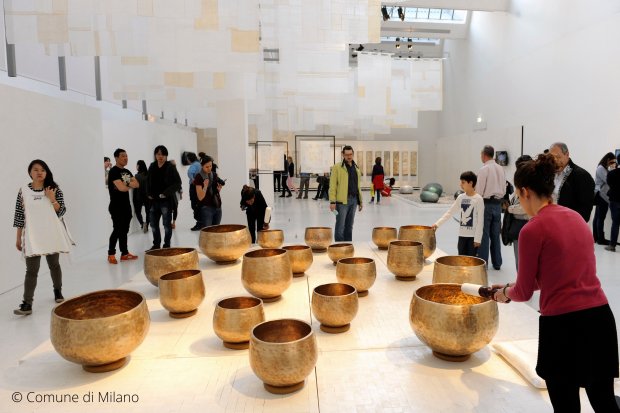 One of Milan's most globally recognized assets is certainly its high standing in design, that most modern form of art that has become one of the city's best selling points.
Design is really a national affair, something Italy as whole is normally associated with, and that blends in the national image with style, beauty and a celebrated way of life. Still, Milan is undoubtedly the capital in this field: locals are hardly aware of how foreigners normally tend to describe in enthusiastic terms the look of the city, its special flair and the elegance it communicates. This is something quite different from the experience of beauty in any of those celebrated Italian cities that have preserved the harmony of their Medieval or Renaissance architecture. This is something dynamic and modern as much as it is timeless.
How did all this come to be? The beginnings are probably to be found in Milan's ancient vocation as a city of trade and commerce, open to the influence of merchants coming from different places, in Italy and abroad. In the middle of an open plain and surrounded by water routes, Milano was bound to experience mixed influences and ideas, from different cultures. The importance of commerce gave rise to many skilled artisans, producing wares of many kinds. As an example, one may go back to the famed tradition in the design and production of armour and weapons - particularly in the turbulent 15th century - well-known and prized all over Europe and still evoked by the streets where these craftsmen once plied their trade: via Armorari and via Spadari, a few steps from the Duomo.
The conjunction of craft, beauty and usefulness is probably at the root of design as we understand it, and it is precisely at this point that Milan separates from the rest of Italy. It is fascinating to think of it as happening in that most celebrated of historical epochs, the Renaissance, under the powerful rule of Ludovico Il Moro, then Lord of Milan. The ambitious Duke sought artisans, intellectuals, artists and military engineers to bolster up the prestige and might of his Court. One day in 1482 he interviewed a young man from Florence, who claimed to be an innovative war engineer as well as an accomplished painter. Thus began Leonardo Da Vinci's time in Milan, possibly the most fruitful and important in his life.
Leonardo came to Milan precisely because, even at that time, it offered opportunities in innovation, and it was where he wanted to work: intellectual power and art were finally joined to scientific inquiry and practical purpose. These, after Leonardo, became the hallmarks of Milan: craft, beauty and usefulness. The famous Milanese designers of the post-war years, who created Italian design as we now know it, are all in some way heirs to the Master's spirit of observation and research, as well as to his skill in beauty.
And it is to these glorious post-war years that we must turn to experience Italian and Milanese design in all its glory. Milano became the capital of design and designers started to flock here from Germany, Japan, Holland and the rest of the world, many of them staying. These days, top notch design Academies welcome students to Milan from all over the world. Certainly the best place to start for a comprehensive recollection is Triennale Design Museum, a permanent collection displaying all the best of Italian design in context, housed in a striking building overlooking a large park, Palazzo dell'Arte, which also hosts temporary exhibitions of significant interest. Armchairs, sewing machines, table lamps, typewriters: a selection of the 1.600 objects of historical significance within the Museum's collection will be on show at any time, and visitors will get a peek at Giorgio de Chirico's puzzling Mysterious Baths in the park as well.
Another interesting venue is Fondazione Achille Castiglioni, named after the internationally acclaimed Milanese designer. His former study is now a museum, rich in the models, prototypes and design pieces he collected during his life and commented on during his celebrated lessons at Milan's Politecnico. A brand new design museum is about to open in Milan, and a proper inauguration has only been retarded by the Covid pandemic: ADI Design Museum Compasso d'Oro (Golden Compass Museum). A former industrial site has been made available by the City Hall and restructured to house the more than 350 design pieces that won the prestigious Compasso d'Oro design award since its inception in 1954. With its 2.400 square metres of exhibition space, the Museum will display the history of Italian design and of its industrial, cultural and social background.
But perhaps the best and most popular way to come across the spirit of design in Milan is the world-famous Design Week, which includes the famous Furniture Fair (Salone del Mobile) and a multitude of collateral events across the city (Fuorisalone). Its most recent editions numbered around 370.000 visitors on average, from 188 different countries, and 2500 exhibiting companies. During the Salone the whole city comes alive and is at its most creative, international and welcoming, while at the same time doing business in a spectacular way. The next edition, postponed because of the pandemic, is scheduled to take place in September 2021, just a month before World Routes. With these two major events, after a long and difficult stop, Milan will hopefully be back in full gear once again.