Opening 'Aspire' business lounge at Eindhoven Airport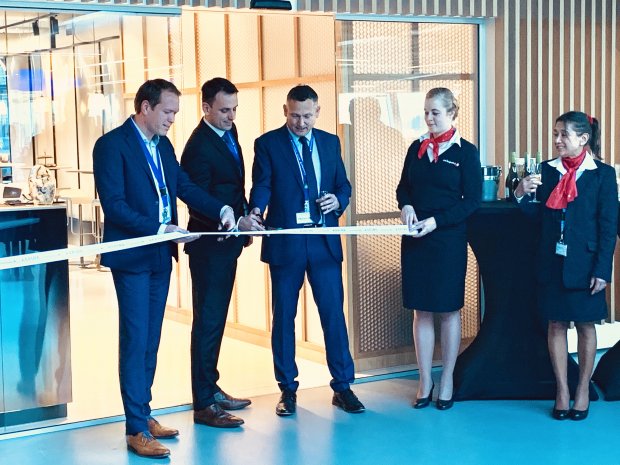 Swissport opened the Aspire Lounge on Monday 2 December at Eindhoven Airport. Passengers using the modernly furnished lounge can start their journey in a relaxed atmosphere.
The Aspire Lounge offers space to work and relax. Naturally, guests have access to a fast internet connection. In addition, the lounge has its own kitchen with a self-service buffet. The 200 square meter business lounge has 60 seats. The lounge is located behind the security on the first floor. The Aspire Lounge is open daily from 5:30 a.m. to 9:30 p.m.
Shaun Weston, vice president of Global Lounges at Swissport International: "We are very proud to introduce our Aspire brand at Eindhoven Airport. The opening of this premium lounge at Eindhoven Airport is an addition to our current range in the Netherlands. Eindhoven is our fourth lounge in the Netherlands. We already have three very successful lounges at Amsterdam Schiphol Airport. "
Mark Botter, Head of Consumers & Real Estate at Eindhoven Airport: "With the lounge, we respond to the needs of the business passenger. This can work undisturbed in the lounge or relax. The Aspire Lounge offers the business traveler all the necessary facilities. The lounge is a valuable addition to the airport's facilities. "
The establishment of the lounge at the airport fits in with the Eindhoven Airport strategy in which the transition from quantity to quality is central. The lounge meets the needs of the traveler and contributes to the quality of the airport. The airport is important for the Brainport region. Around twenty percent of travelers have a business travel motive. The Aspire Lounge is also a welcome extra facility for this group of passengers.