Hamburg Airport certified for high level of coronavirus safety measures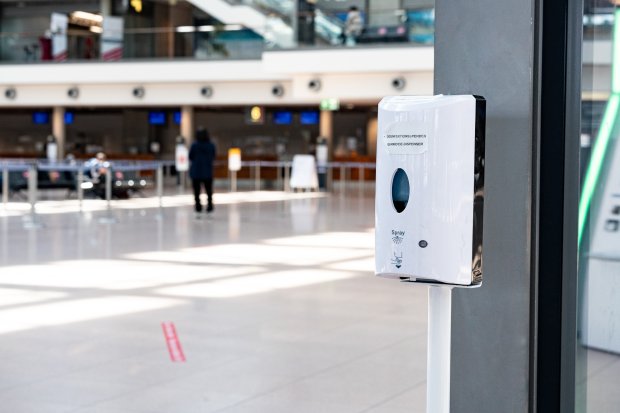 29th April 2021:
ACI awards Hamburg Airport with "Airport Health Accreditation Programme" certificate / Assessment of all measures along the entire travel chain

Hamburg Airport has received the "ACI Airport Health Accreditation Programme" certificate. With this award, the Airports Council International (ACI), the global federation of airport operators, has recognised Hamburg Airport's comprehensive protection and hygiene measures. Diverse factors in all aspects of airport operations fed into the assessment: possibility for social distancing, cleaning and disinfection, spatial layout and passenger facilities, passenger communications, and the protection of personnel. The certification is valid for one year.

"Many people in northern Germany are longing to fly on holiday again or to see their friends and family who live far away. Business travellers want to meet their business partners in person again. Passengers rightly expect a high standard of hygiene and safety measures. At Hamburg Airport, we do everything to ensure that passegners feel safe and at ease here. That is why we had our performance reviewed on the basis of independent criteria — successfully. Certification in the 'ACI Health Accreditation Programme' confirms that the measures we have put in place are well thought-out and effective, and that they are applied consistently," says Michael Eggenschwiler, CEO of Hamburg Airport. Hamburg is the fourth ACI-certified airport in Germany, following the hubs of Frankfurt and Munich and the Berlin-Brandenburg airport.

Expert group ensures high standard of corona measures
Since the start of the coronavirus pandemic, Hamburg Airport has implemented numerous hygiene and protective measures to make safe travel possible. An interdepartmental Expert Group maintains constant communication to ensure that the measures always keep pace with new regulations and developments. Employees in almost every functional role at Hamburg Airport are represented, bringing with them a broad spectrum of expertise. The genuine success of the Group and its rapid approach is demonstrated by the fact that Hamburg Airport exemplary response to COVID-19 has already been recognised by both the Skytrax airport rating agency and the ACI award over the past twelve months.

A medical mask (e.g. surgical or FFP2 mask) is mandatory in the terminals and on-board aircraft. Passengers can purchase medical facemasks, disinfectant wipes and disinfectant gels for their travels at self-service kiosks. Perspex panes, hand disinfectant dispensers, floor markings and display monitors help people comply with the now familiar hygiene rules whilst at the airport. Extra cleaning teams are out and about in the terminals. For non-contact check-in, the airlines offer mobile check-in facilities as well as the check-in and self bag drop kiosks. For everyone to be able to travel safely, it is vital that passengers comply with regulations and look after themselves and one another. Passengers can find out about the latest requirements and regulations on the airport website before their journey: https://www.hamburg-airport.de/en/plan-book/current-information-12134

Additional measures for personnel
Whenever operationally possible, Hamburg airport personnel can work remotely from home. In many roles, however, presence at the airport is essential, for example passenger service, aircraft and baggage handling, and ramp control. For several weeks already, Hamburg Airport has been providing self-check coronavirus tests free of charge for all employees working on site. Employees have responded very positively to this measure to date.

Experienced service provider: coronavirus tests available directly at the airport
Passengers and the general public can undertake a coronavirus test at Hamburg Airport. Tests are available from the experienced service providers Centogene and EcoCare. In Terminal 1 and in the Corona Care Centre (Terminal Tango), Centogene offers PCR tests and rapid antigen tests, subject to charge. Drive-through tests are also available in the P1 multistorey car park, allowing drivers to register online in advance and then have the test in the comfort of their own vehicle. In the EcoCare test center (Corona Care Centre), both paid tests and free rapid tests — the so-called Coronavirus Resident Tests — are available. Anyone interested can find an overview of the test centers at Hamburg Airport online at https://www.hamburg-airport.de/en/depart-arrive/corona-test-centers-at-hamburg-airport.

About the "ACI Airport Health Accreditation Programme"
For comprehensive information on the "ACI Airport Health Accreditation Programme" along with a list of certified airports, see the ACI web page: https://aci.aero/about-aci/priorities/health/aci-airport-health-accreditation-programme.

Airport Press Contact: Department of Communications
Telephone: +49 40 – 5075 3611 │ Email: presse@ham.airport.de
Internet: www.hamburg-airport.de │ Newsletter: www.hamburg-airport.de/de/newsletter.php www.facebook.com/HamburgAirport │ www.twitter.com/HamburgAirport www.instagram.com/hamburgairport/ Twitter press office: www.twitter.com/HAM_Presse
image: Photo credits: Oliver Sorg