From Kraków to Eilat-Ovda with Ryanair.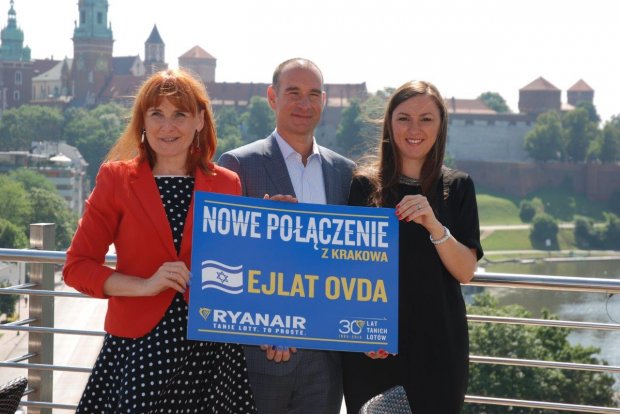 At the press conference (Kraków, 7th July) Kraków Airport and Ryanair have announced new route from Kraków to Eilat-Ovda. It starts from 7 November with two flights weekly (Tuesdays and Saturdays).
New route will be a very exciting offer for tourists from Małoplska. It's dedicated to all people interested in holidays on Israeli cost of the Red Sea, situated on a sole land bridge between Asia and Africa. It's the first route outside Europe and also a return of Israel to the Kraków Airport's network. Lovely Red Sea beaches, coral reefs, beautiful natural mountains landscapes and the climate are a guarantee of fantastic holidays. The route is a perfect addition to winter flights to Canary Islands announced lately.
The carrier will offer 26 destinations from Kraków in the Winter season.
Photograph: Urszula Podraza (Spokesperson/Manager of PR Department at Krakow Airport), Jonathan Ornstein (Director of Jewish Community Center in Krakow), Katarzyna Gaborec McEvoy (Deputy Sales & Marketing Manager for Central & Eastern Europe at Ryanair).