Winter flight network in Kraków Airport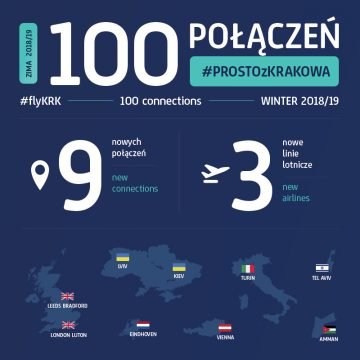 On Sunday, 28th October, the winter season began at Kraków Airport. A few well-known directions will return to the new flight network and new ones will also appear.
In winter season 2018/19, Kraków Airport passengers will have 100 routes #flyKRK to choose from, which are operated by 20 carriers: Austrian Airlines, British Airways, BlueAir, Brussels Airlines, easyJet, EL-AL, Eurowings, flydubai, Finnair, Jet2.com, KLM, Laudamotion, LOT, Lufthansa, Norwegian, Ryanair, SWISS International Air Lines, SAS, Transavia and Ukraine International Airlines.
#flyKRK flights will have 85 destinations in 27 countries on 4 continents.
What's new in Kraków-Airport?
In the winter network 9 new connections have been introduced. One of them – Eindhoven by Transavia airline – premiered at the beginning of the month. On 28th October passengers had an opportunity to take the first flight to Vienna by Laudamotion airlines. One day later Easyjet Airlines launched a new connection to London Luton airport and Ryanair to Amman and Kiev. Additionally, on 30th October Lvov was added to the network.
In November UK airline Jet2.com will begin flights to Leeds Bradford (9.11).
In December Kraków Airport will welcome a new carrier – Blue Air, thanks to which passengers will be able to travel to Turin. New connection will also be introduced after New Year: on 25th February Polish Airlines LOT are launching a connection to Tel Aviv.
For the first time in the winter season the connection with Pafos on Cyprus will appear on offer. Traditionally, the flights to Eilat in Israel will come back in the winter flights network.