8 millionth passenger at Kraków Airport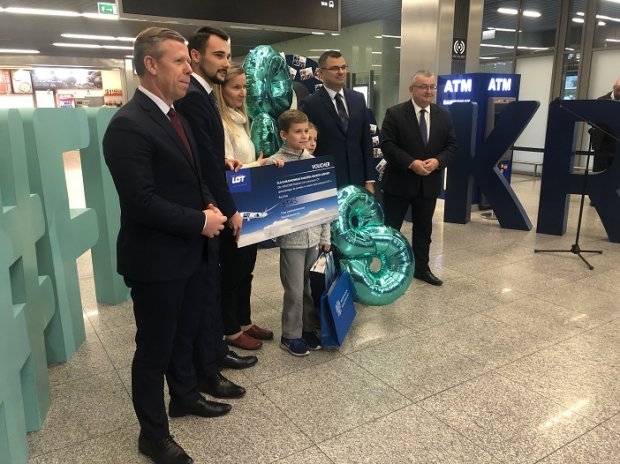 On Saturday, December 14th 2019, for the first time in history, Kraków Airport welcomed its 8 millionth passenger!
He was 10-year-old Staś, who flew to Krakow on board a PLL LOT plane from Miami (with a change in Warsaw) along with his mother and sister.
At Kraków airport, the passengers were greeted by: Andrzej Adamczyk - Minister of Infrastructure, Piotr Ćwik - Małopolska Voivode and Radosław Włoszek - President of the Management Board of Kraków Airport. All passengers were greeted with an occasional cake, and surprises were waiting for an 8 million passenger: a voucher for the legendary Krakow's Wierzynek restaurant - a partner of the Krakow Airport Loyalty program, a tablet from Krakow Airport and a voucher from PLL LOT, which was handed to an 8 million passenger Michał Czernicki - press spokesman for LOT Polish Airlines .