Wizz Air starts new, exciting Katowice routes earlier.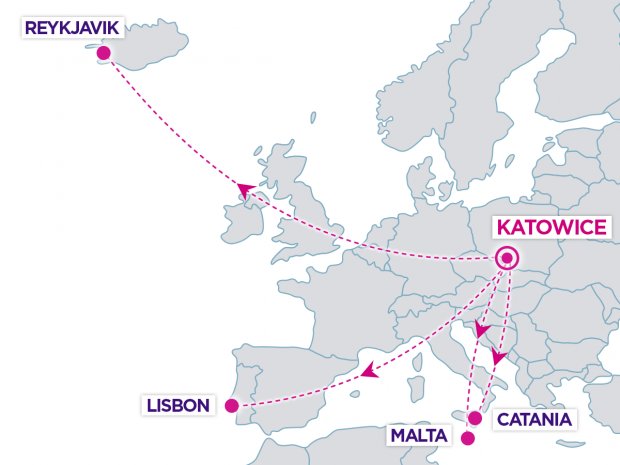 Catania, Lisbon, Malta and Reykjavik
Wizz Air, the largest low-cost airline in Central and Eastern Europe, today announced that, reflecting on customer demand, it will start its recently announced exciting Katowice routes two weeks earlier, than originally planned. The newest WIZZ services will connect Katowice with the popular holiday destinations of Catania, Lisbon, Malta and Reykjavik. Each new route will be operated with two weekly flights.
Since its first flight in 2004, Wizz Air has constantly expanded its operations in Katowice. The airline now has five aircraft based at Katowice Airport employing over 200 dedicated crew, who deliver excellent onboard service on each WIZZ flight. In March 2017 Wizz Air will deploy a sixth aircraft at its Katowice base creating 36 additional direct jobs with the airline.
Seats on Wizz Air's newest Katowice routes already on sale and can be booked on wizzair.com from only PLN 109*.
WIZZ AIR'S ROUTES FROM KATOWICE:
Destination/Days/Starts/Fares From*
Catania/Tuesday, Saturday/11.03/PLN 109
Malta/Monday, Friday/10.03/PLN 129
Lisbon/Wednsday, Sunday/12.03/PLN 219
Reykjavik/Monday, Friday/10.03 /PLN 259

Gabor Vasarhelyi, Corporate Communications Manager at Wizz Air,said: "We are pleased to deliver great news for our Polish consumers. Our Katowice routes will start two weeks earlier providing our customers with more opportunities to book a memorable trip on our low fares to one of our four exciting leisure destinations. Surprise your loved ones with a WIZZ ticket in the upcoming festive season - seats are already on sale on wizzair.com. Our friendly Polish crew looks forward to welcoming you on board with a smile!"
*one way, including all taxes, non-optional charges