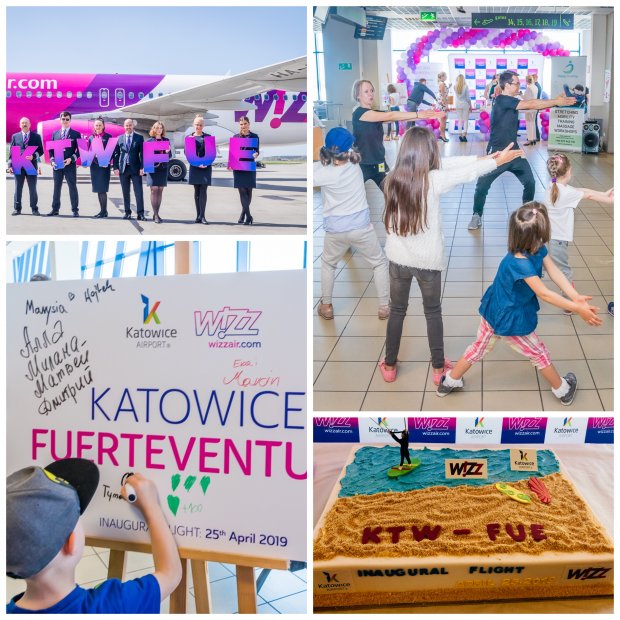 KTW-FUE
On Thursday 25 April Wizz Air inaugurated its connection from Katowice Airport to Fuerteventura. 180 passengers flew on the first Wizz Air flight to the second largest island of the Canaries. This seasonal connection will operate every Thursday until 24 October 2019. This is the second route of the Hungarian carrier to the Canary Islands in its summer network of connections from Katowice Airport. Wizz Air has been regularly flying to Tenerife since October 2016. More than 70 thousands of travelers have been carried on that route during 30 months of its operation.
"In recent years Wizz Air has opened many typical summer holiday connections. A many as twelve out of 41 routes operated from Katowice this summer have such character. Beside Fuerteventura Wizz Air offers flights to Alghero, Burgas, Castellon, Lisbon, Malaga, Podgorica, Porto, Santander, Split and Tenerife. Not only individual passengers but also travel agencies make use of Wizz Air's services", said Artur Tomasik, President of the Board of Górnośląskie Towarzystwo Lotnicze SA that operates Katowice Airport.
Fuerteventura is one of four new routes in Wizz Air's summer network of connections from Katowice Airport. On Saturday 15 June the airline will open a seasonal connection to Santander. Flights will be operated every Tuesday and Saturday until 14 June 2019. The first flight from Katowice to Castellón is scheduled on 17 June. The seasonal connection will be operated every Monday and Friday until 13 September 2019. An all-year-round connection to Alesund will be inaugurated on 16 September. Flights will operate every Monday and Friday.
Wizz Air is the biggest regular carrier at Katowice Airport. In the peak time of "Summer 2019" schedule Wizz Air will be basing 8 Airbus A320/A321 aircraft here to offer a network of connections comprising 41 routes to 19 countries. In 2018 Wizz Air carried 2.13 m passengers on routes to and from Pyrzowice.
Katowice Airport is one of the largest regional airports in Poland. In 2018 a record number of 4.84 m passengers made use of its network of connections. The airport is a national leader in the segment of charter transport and a regional leader in terms of cargo transport.
According to this year's forecast Katowice Airport expects that for the first time in its history it will handle more than 5 million travelers.