2019 in numbers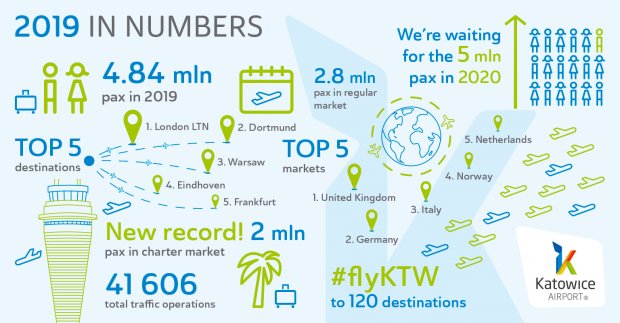 Increase in traffic and a record-breaking charter segment
n 2019, Katowice Airport handled a record-breaking number of 4 843 889 passengers; the result is better by 5 740 in comparison to 2018. Airlines performed 41 606 approach and landing operations, the most the airport ever handled in its history. The biggest increase in the number of passengers travelling from or to Katowice Airport occured during the fourth quarter of 2019. From October to December, the airport handled 928 147 travellers, i.e. 67 890 more than last year during the same time period.
Charter traffic - the area in which Katowice Airport excels amongst Polish airports - was record-breaking. For the first time ever, the airport handled two million passengers: 2 006 326, i.e. 32 091 more than in 2018.
2 813 783 passengers travelled on a regular route, i.e. 31 221 less than in 2018.
In accordance with the predictions, Katowice Airport may - for the first time in its history - considerably exceed the yearly number of 5 million served passengers in 2020.