Discover the futureTerminal 1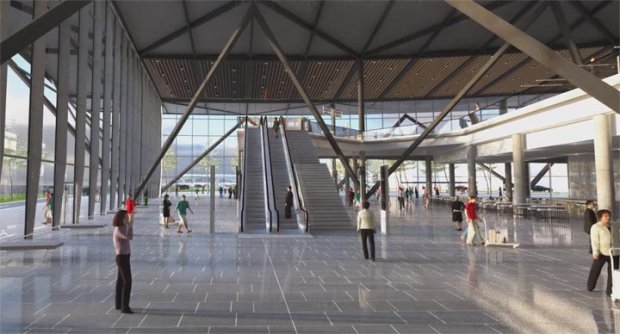 With the future Terminal 1, the airport is doubling the current surface area of its terminals and will be able to handle 15 million passengers per year after 2020. Throughout this project, Aéroports de Lyon has wanted to offer passengers an optimal level of service based on the best international standards. The project also aims to propose a new quality of service for operators and airlines operating in this terminal.
The future Terminal 1 will cover a new surface area of 70,000m², equivalent to the surface area of all the other current terminals combined. Designed to meet new passenger expectations, leaving enough space for shops and services to make the airport a real hub of activity, the airport will welcome all low-cost airlines and conventional airlines.
This new Terminal will be an extension to the existing Terminal 1, replacing the current metal-fabric section of Terminal 3, and will be connected to the boarding satellite via the underground gallery.
Designed to facilitate the movement of passengers and to allow direct flows due to its organisation, the future Terminal 1 will offer space and innovative equipment to provide passengers with all the services they require.
The future Terminal 1 is designed to be scalable and will be a flexible, modular platform with fully adaptable characteristics and the capacity to be developed in line with air transport industry developments.
The future Terminal 1 will also handle Schengen and non-Schengen flights using a pre-bridge boarding system and specially designed disembarking circuits.
To ensure maximum flexibility, each of the 8 on-stand aircraft parking stations at T1 will either be able to accommodate one widebody carrier or two medium-haul carriers depending on traffic requirements. All types of aircraft can be catered for in the on-stand area and reached by airbridge: medium-haul carriers, widebody aircraft and even very large aircraft due to the two stations compatible with the A380.
The terminal will be able to offer airlines connecting flight management solutions using dedicated equipment and optimised circuits to ensure a minimal connection time.
Conventional airline traffic and low-cost airline traffic will be handled in the same building. Some spaces will be divided by type of traffic, offering a "standard" or "simplified" level of service: for example, this will be the case for baggage delivery areas, and all boarding and disembarking spaces.
Other functions will be centralised and common to all passengers to optimise resources and operational efficiency. These include the public arrivals/departures hall, the security checkpoint, the waiting area and shops, the baggage handling system.