2019 : A record year for Lyon Airport and VINCI Airports group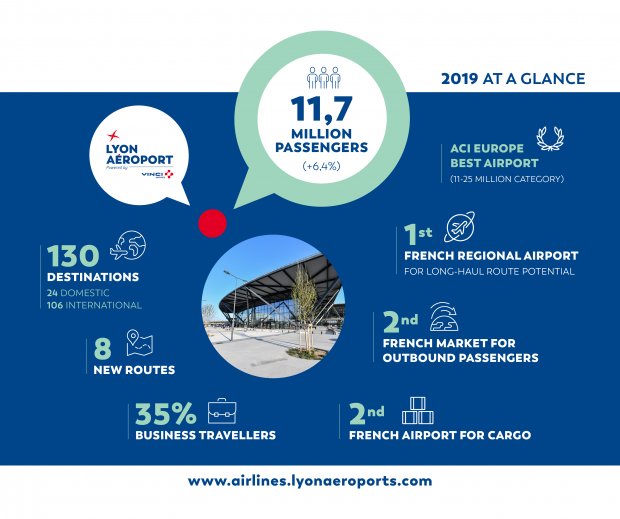 Lyon Airport, part of the VINCI Airports group, saw a record year in 2019, handling 11.7 million passengers (+6.4% Y/Y).
Lyon Airport saw another record year in 2019, handling 11.7 million passengers, reinforcing its position as the 2nd French regional airport, and was voted ACI Best European Airport 2019 in the 10-25 million passengers category.
With more than 130 destinations (8 new routes in 2019), Lyon Airport will welcome VOLOTEA base in April 2020 and QATAR AIRWAYS in June 2020.
In 2018, Volotea launched its first 4 destinations and will now operate 18 routes from Lyon, including Santorini, Bari, Bilbao exclusive routes.
Qatar Airways comes to reinforce the long-haul offer from Lyon Airport, with 5-weekly flights to Doha. As a new gateway between Qatar's capital city and France's second largest metropolis, the Lyon-Doha route will strengthen the attractiveness of the Auvergne-Rhône-Alpes region and of the Lyon metropole by making more travel options to Middle East and Asia available to passengers.
With nearly 68% international traffic, Lyon Airport, part of the VINCI Airports group, reinforces its position as an international airport and a major entry point to European hub for commercial airlines, charter planes, low-cost carriers and business jets.
Discover more about our potential, our commitments and our expertise at https://airlines.lyonaeroports.com.
VINCI Airports in 2019
With 255 million passengers served in 46 airports in 2019 (+5.7% from 2018, on a comparable network base1) in 12 countries, VINCI Airports consolidated its position as the world's second-largest airport operator in terms of passenger numbers.

Passenger traffic at a number of airports operated by VINCI Airports reached symbolic milestones in 2019: 50 million passengers at the Kansai airports; 30 million at Lisbon; and 6 million at Belgrade. Reflecting the high-quality service provided for airlines and the regions in which VINCI Airports operates, 325 new routes were opened across its network, including 61 long-haul routes such as Osaka-London operated by British Airways, London-Shanghai operated by Air China, and Santiago de Chile-Barcelona operated by Iberia.

The year's highlight was the integration on 13 May of London Gatwick, in which VINCI Airports acquired a majority shareholding of 50.01%.

Despite events in the business environment that adversely impacted several airports at the end of the year, overall passenger traffic across the VINCI Airports network rose 2.1% in the fourth quarter (like-for-like), reflecting the network's resilience.
In France, passenger traffic at facilities operated by VINCI Airports rose 8% over the year (+4% in Q4). This good overall performance despite cutbacks in Air France's domestic network was driven by traffic growth in Lyon (+6.4%) and Nantes (+16.6%). Benefiting from VINCI Airports' innovation and service strategy, Lyon Saint Exupéry won Airports Council International's "ACI Europe Best Airport 2019 Award" in its category. In 2020 it will become a base of Spanish airline Volotea. In a separate development, easyJet opened a new base in Nantes.
More information at https://www.vinci-airports.com/en/news/vinci-airports-traffic-2019