Marseille Provence airport reports solid results in 2019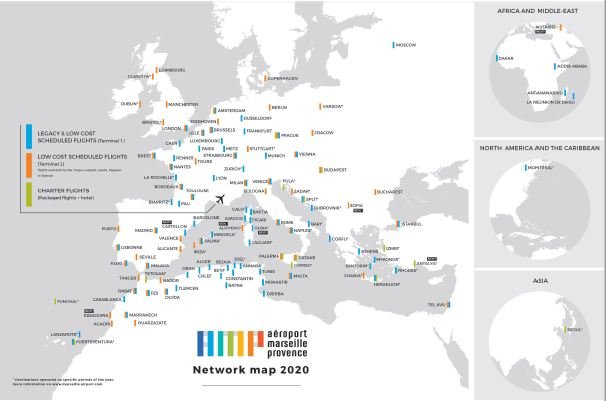 From expanding its international network and strengthening its social and environmental responsibility in the local region
2019 proved to be another year of strong growth for Marseille Provence airport, which surpassed the milestone of 10 million passengers.
SOLID RESULTS FOR 2019
• 10.15 million passengers visited Marseille Provence airport in 2019 (+8.1%). This growth comes essentially from international flights (+11.1 %), making Marseille Provence now France's 3rd largest regional airport.

• 17.7% of these passengers (1.8 million) travelled through the airport using public transportation, representing a 13.5% increase compared to 2018. The growth of public transportation is thus greater than air traffic growth.

• Freight operations are also on the rise, with almost 59,700 tonnes handled in 2019 (+5.3 %). The airport has thus cemented its position as the biggest regional airport in France and the Western Mediterranean for express freight.

• As for the financial results, turnover stands at €158 million (+7%), gross operating profit is up by approximately 10% and the GOP margin is over 32%. The constant growth of GOP margin further strengthens the company's results and demonstrates the airport's capacity to finance determining and capacity-expanding projects.

• €39 million were invested in 2019 to improve the passenger experience and carry out several forward-looking projects such as the renovation and extension of Terminal 2 as well as pre-studies for the launch of the Heart of airport.

• 4,500 people work every day to improve the passenger experience and the quality of the airport's operations.

• Lastly, the airport contributes almost €1 billion to wealth creation in the region and generates 13,200 jobs.

2020: NEW INTERNATIONAL TRAVEL ROUTES
The objectives, aligned with Marseille Provence airport's strategy, are clear: increase routes towards Europe and the Mediterranean basin, improve accessibility with major international hubs and open new long-haul routes. International travel is clearly a key challenge. Increasing the number of point-to-point routes will provide a boost to the region's tourism, economy and international reputation. International operations currently represent 62% of the airport's traffic and accounts for approximately 80% of its growth in 2019.

For summer 2020, 17 new routes have already been announced compared to summer 2019: Alghero, Antalya, Athens, Castellon, Catania, Copenhagen, Dakar, Dublin, Essaouira, Kutaisi, Chania, London Southend, Milan Bergamo, Olbia, Sofia, Tel Aviv and Vienna.

In total, 124 destinations and 158 regular routes are currently planned for 2020.

GROWING IN HARMONY WITH THE REGION
The roadmap is ambitious: continue to develop air connectivity in line with the region's appeal while maintaining a constant focus on sustainable growth.

A larger share of new generation airplanes, larger-capacity airplanes, more public transport, new eco-friendly infrastructure, regional integration and cooperation…Marseille Provence Airport is wholeheartedly committed to managing and minimising its environmental footprint.

Developing public transportation is one of the major goals that forms part of this commitment. Given their increasing numbers, the airport has set itself the ambitious target of 25% passengers using public transportation by 2025, in line with the urban mobility plan of Métropole Aix-Marseille-Provence. More frequent trains, efficient links and dedicated motorway traffic lanes will help improve intermodal transport at the airport, and consequently within the region.
Many forward-looking projects also fall under this commitment, with the airport having already confirmed many determining projects such as the installation of solar canopies on the top floor of its new car parks (P3 and P4). These canopies will supply 10% of the airport's electricity consumption with the energy being self-consumed directly on site. Moreover, 130 new charging stations for electric vehicles will also be installed and new buildings will be certified as 'Low Energy Buildings'.
Overall, all the renovation works and efforts to minimise energy use have enabled Marseille Provence airport to reduce its energy consumption to the same levels as of 20 years ago.
In 2019, ACI Europe awarded Marseille Provence airport with a level 3 certificate as part of its Airport Carbon Accreditation scheme, in recognition of its efforts to reduce CO2 emissions. This Level 3 certification, entitled 'Optimisation', is evidence of all the airport's stakeholders' commitment to reducing their carbon footprint (the airport succeeded in reducing CO2 emissions by 25% between 2013 and 2017). The airport evidently aims to continue on this path and move towards carbon neutrality (level 3+), whereby all the airport's carbon emissions will be offset, by 2022.

Jean-Paul OURLIAC, Chairman of the Supervisory Board at Marseille Provence Airport, explains: «We are working hard to strike the balance between reducing the impact of air transport and maintaining economic growth. Minimising our environmental footprint is a priority for the airport, local residents and future generations. We aren't just bowing to fashion, it's a long-term commitment. »
Philippe BERNAND, Chairman of the Board of Directors at Marseille Provence Airport, adds: « This year is yet another topped off with great results, the fruit of rigorous management and the expansion of our air operations. We have also focused on making this growth sustainable through a firm commitment to corporate and environmental responsibility. We have no intention of stopping there, as proven by all our eco-friendly projects and infrastructure plans. Do not be mistaken: Marseille Provence Airport is an engaged actor we can count on! »