Ireland West Airport Knock's New Website Enhances Passenger Travel Experience!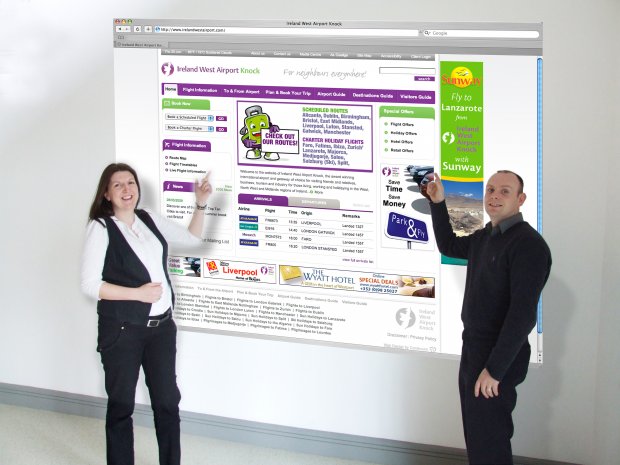 Ireland West Airport Knock's New Website Enhances Passenger Travel Experience!
Ireland West Airport Knock is delighted to launch its newly developed website, www.irelandwestairport.com, which incorporates a suite of enhanced new customer service features along with easy access to booking flights, special offers, accommodation and travel services at the West of Ireland Airport.
As part of Ireland West Knock's continuous efforts to advance its services and facilities to customers, the new irelandwestairport.com website developed by Continuum Technologies, features a user-friendly design and now incorporates useful passenger and travel planning information at the touch of a button. One of the website's key features is fully automated 'real-time' flight arrival and departure information to the 20+ flight destinations served out of Ireland West Knock. This is an exciting new development which will enable passengers and their greeters to plan their travel to, and from, the Airport in advance. Other useful features include the latest Airport news and special offer deals provided by Ireland's leading tour operators and airlines such as Aer Arann, Aer Lingus, bmibaby and Ryanair, as well the Airport's new travel value shop which has recently opened. Accommodation booking facilities, in addition to updates on the latest travel and holiday news and free competitions for subscribers signed up to the new monthly Airport e-zine are just some of the new features available on irelandwestairport.com
Commenting on the new website, Annette Kearney, Marketing & Route Development Manager, Ireland West Airport Knock, said: "We are very pleased to further enhance the Airport's award-winning customer services through the online medium and we hope that the new irelandwesairport.com website will be a useful information and trading platform for passengers, aviation and business partners, journalists and other Airport stakeholders. Already about a thousand people use the website every day this gives the Airport a superb foundation upon which to build and grow our relationships with our much valued customers and partners, as well as ensuring that we remain a convenient-to-use Airport and a leading promoter of good value travel choice in the Region."
Gerard O Loughlin, Senior E-Business Consultant with Continuum Technologies, which partnered with the Airport to develop the new site said: "The new Ireland West Airport Knock website is an exceptional example of an international airport taking a positive approach to marketing itself in an online environment. Powered by Continuum's bespoke content management system, the website accommodates all types of visitors from those visiting friends and relatives, those on business and all domestic and International visitors to the West, North West and Midlands regions of Ireland. Continuum is delighted to work in partnership with the airport in implementing a web strategy that positively promotes the airport as well as the surrounding region"
75,000 Accommodation Choices!
New passenger and tourist information services are also incorporated into the new site as it features destination guides for tourists visiting the West and North West of Ireland, in addition to the 20 overseas destinations served by the Airport. Links to the Airport's car hire partners and other ground transport providers are given as well as access to a superb range of great value accommodation choices throughout Ireland, the UK and Europe. In providing the accommodation services, the Airport is pleased to announce partnerships with the leading provider of self catering accommodation in Ireland, Gulliver Ireland, and Ireland's leading B&B Accommodation provider, Town & Country Homes, as well as Europe's largest and fastest growing online hotel reservation service Booking.com. Booking.com's inventory of over 66,000 great value hotels in 71 different countries worldwide caters to every budget with accommodation ranging from small independent hotels to luxury five star hotels.