New Flights take off as Virgin Australia capacity expands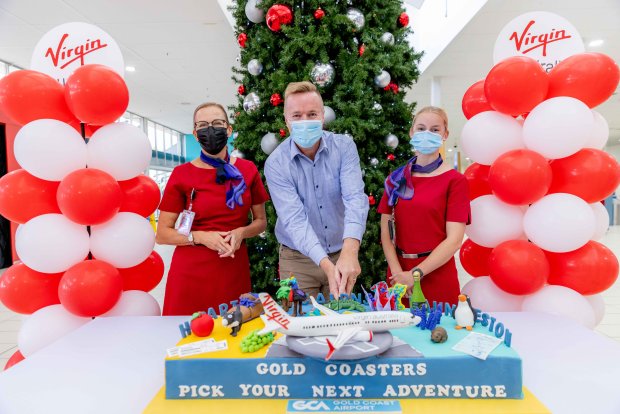 7th December update:
New flights between the Gold Coast and Launceston, Cairns and Hobart are taking off as Virgin Australia expands its capacity here – and the aviation and tourism sectors count down to the Queensland border opening.
Three new Virgin Australia services start in early December, including Gold Coast-Launceston on 7 December, Gold Coast-Cairns on 9 December and Gold Coast-Hobart on 13 December.
Queensland Airports Limited CEO Chris Mills said Virgin Australia had significantly expanded its presence on the Gold Coast and these services were part of an overall capacity increase – ready for the Queensland border to open on Monday.
"It is particularly pleasing as we start to rebuild, that Virgin Australia is prioritising the Gold Coast as a key destination," he said.
"It shows the strength of the region and reinforces our belief that people are keen to come back here as soon as the Queensland border reopens to NSW, Victoria and the ACT.
"It also highlights the growth of the Gold Coast itself and the increasing number of locals that are keen to book their next holiday."
It is the first time a Gold Coast-Launceston service has operated in more than 20 years – with the Virgin Australia flights creating another new opportunity for the Gold Coast and northern NSW tourism businesses.
The Gold Coast-Cairns and Gold Coast-Hobart routes have been among the top performing this year and the Virgin Australia services will deliver more options for travellers in both directions.
Mr Mills said Gold Coast Airport, which was usually Australia's sixth busiest airport and welcomed 6.5 million passengers a year pre-COVID-19, was expected to return to 100 per cent of its normal capacity during the Christmas holidays.
Media contact:media@qldairports.com.au
For the official press release and further information, please click here:
https://www.goldcoastairport.com.au/latest-news/new-flights-take-off-as-virgin-australia-capacity-expands