Direct Transatlantic Route to Boston to Take Off From Cork Airport This July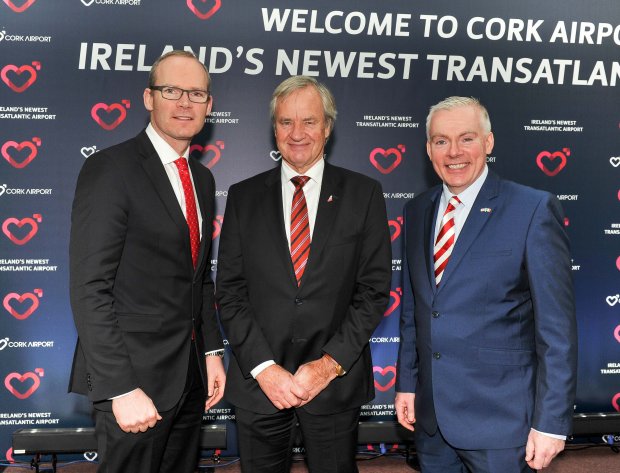 • Norwegian Unveils New Low-Cost fares starting at €69 for Flights to Boston/Providence From Cork • Historic Direct Transatlantic Service to Finally Take Off from Cork Airport After 56 Years • New Cork – Boston/Providence Route to Start on 1st July
Thursday, 23rd February: The long-awaited news that the first direct transatlantic service is to take off from Cork Airport to Boston/Providence was announced at a major press conference in Cork today by Norwegian CEO Bjørn Kjos. The new direct service from Cork to Boston/Providence will start on 1st July next offering passengers across the South of Ireland some of the cheapest ever transatlantic fares ever seen starting from €69 one way.
The three times weekly flights from Cork to Boston/Providence will operate on Tuesdays, Thursdays and Saturdays. The flights will depart Cork at 16:20 and arrive at Providence at 19:05. Tickets for the new service are now on sale at www.norwegian.com/ie.
"It has been a long and challenging journey to secure the services and the licences necessary to get our transatlantic services up and flying. However, we stayed with it all the way, partnering with Norwegian and with the support of our local stakeholders," said Niall MacCarthy, Managing Director at Cork Airport. "Today's announcement is not just about a new route, it also heralds low-cost transatlantic access. Norwegian will do for low-cost transatlantic services what Ryanair and others have done for low-cost European services. On that basis, we are really thrilled with today's news. Cork Airport, already the Republic of Ireland's second busiest airport, is now also Ireland's newest transatlantic airport.
"Today's breakthrough presents great opportunities to further grow tourism in the South of Ireland in future years. Passenger growth in 2017, which is already underway, will come on top of the 8% passenger growth we delivered in Cork Airport last year. We look forward to welcoming US visitors directly onto our tarmac for the first time this July with knock on benefits to regional tourism. Equally, we look forward to providing our friendly and convenient customer service in a modern terminal setting to Irish passengers travelling to the United States."
The new routes were unveiled today at Cork Airport by Norwegian CEO Bjørn Kjos who said: "These ambitious new transatlantic routes simply wouldn't have been possible without the significant support we have received throughout Ireland over the last 3 years. We are hugely grateful for this continued support and are delighted to finally unveil our plans.
"With the first ever transatlantic flights from Cork, we are shaking up transatlantic travel with ground-breaking fares and never before seen routes. The cost of transatlantic travel has been too high for too long so by connecting Irish cities with smaller US airports, we can offer some truly affordable fares, allowing as many people as possible to fly."
Niall Gibbons, CEO of Tourism Ireland, said: "Today's announcement is excellent news for tourism to Cork and the South of Ireland for 2017. We look forward to working closely with Norwegian to maximise the promotion of this new route from Boston/ Providence. As an island, the importance of convenient, direct, non-stop flights cannot be overstated – they are absolutely critical to achieving growth in inbound tourism. Tourism Ireland is committed to working with Norwegian and Cork Airport, through co-operative marketing, to drive demand for this new flight.
"In 2016, we welcomed a record 1.6 million North American visitors to the island of Ireland. Looking to the year ahead, we are confident of further growth; as well as more airline seats than ever before from the US, other factors working in our favour include a strong dollar, as well as the strength of the vacation experience in Cork and right around the island of Ireland".
Conor Healy, CEO of Cork Chamber of Commerce reinforced these comments, saying: "This is a historic day for Cork and the wider Munster region and I am delighted that the new service is finally commencing. I would like to wish Norwegian the very best and have no doubt the service will be supported both here and in the US. It is an excellent opportunity to strengthen the business, cultural and tourism ties between Ireland and across the Atlantic".
Cllr. Seamus McGrath, Mayor of County Cork echoed these sentiments, saying: "We have a world-class tourism product here in Cork and must do everything we can to showcase it internationally. We now have an opportunity to attract more American visitors and position Cork as a destination. I would like to congratulate the team at Cork Airport and look forward to partnering with new colleagues in Boston to promote the new service".
Lord Mayor of Cork, Cllr. Des Cahill warmly welcomed the announcement, he said: "This is fantastic and it is news we have all been waiting for and many of us have fought hard to secure. I know it has been a long-held aspiration for the region to have a direct transatlantic service and now that is finally here, it is a huge relief in many ways. We must all continue to work together to promote the city and county to ensure we attract the much-needed visitors and likewise, support the new route by travelling from Cork Airport".
Niall MacCarthy also thanked stakeholders and members of the public for their support over the past two years, saying: "A tremendous amount of work has been done to land this route on both sides of the Atlantic and I would like to acknowledge the huge support received from political, business and local government stakeholders in Ireland, the EU and US. We also received a huge amount of support from the public. Norwegian is also continuing to explore options for a service to the greater New York area from Cork in future".
The new transatlantic routes will be operated on brand new Boeing 737 MAX aircraft - Norwegian is the European launch customer for this state-of-the-art new aircraft which offers a longer range and greater seat capacity than existing single-aisle aircraft. Passengers will be able to travel in a fresh and modern single-class economy cabin with hot and cold food options available to purchase onboard.