bmibaby launches new route from Cork to East Midlands Airport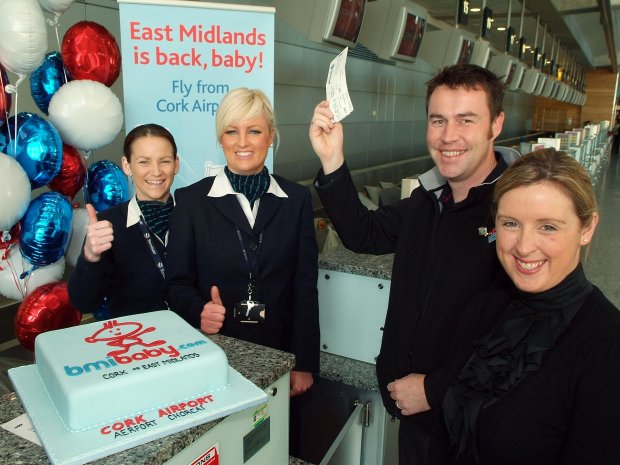 Inaugural flights departs on 18 December 2009
bmibaby will celebrate the start of its new winter service from Cork to East Midlands Airport this week. The inaugural flight departs from Cork on Friday 18 December 2009. bmibaby expects to carry over 16,000 passengers on the new route over the winter period.
bmibaby will operate up to five flights a week to East Midlands Airport on Monday, Thursday, Friday, Saturday and Sunday making it a perfect destination for a weekend break or a longer trip.
bmibaby is the only low cost carrier offering direct flights from Cork to East Midlands Airport. Fares start from just €27.99 one way including taxes and charges. The airline also currently operates a service from Cork to Manchester up to four times a week.
Crawford Rix, Managing Director, bmibaby said:
"We are delighted to launch the new route from Cork to East Midlands Airport. We are the only low cost carrier to operate this service to the East Midlands, providing passengers with a quick and direct route to the region.
"We not only offer benefits such as allocated seating for everyone, but customers can also join bmi diamond club, the UK's most generous frequent flier programme.
"The East Midlands offers something for everyone, from the rolling hills of the peak district to the vibrant nightlife of Nottingham. We believe it will prove a popular service not only with people visiting family and friends, and business travellers but also to those looking for a short break closer to home."
Kevin Cullinane, Marketing Manager, Cork Airport said:
"This new bmibaby service to East Midlands is fantastic news for customers of Cork Airport. We very much look forward to welcoming visitors from Nottingham, Leicester, Derby and other key locations in the East Midlands from December 18th.
"bmibaby's enhanced services to and from Cork Airport is particularly encouraging given that the airline is operating additional services to and from East Midlands during the Christmas and New year holiday period, allowing our customers to avail of additional services during the busy festive season ahead".
For more information visit www.bmibaby.com