Half a million passengers early as March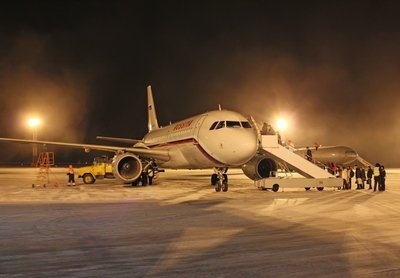 March 12, 2012 - three weeks earlier than in 2011 - Novosibirsk Airport (Tolmachevo) overcame the barrier of 500 thousand passengers, handled 503,156 people.
In 2011 the figure of 500 thousand passengers was registered at the Novosibirsk airport on April 1. In 2012 growth of passenger traffic goes significantly ahead - by 33.3% in the first two months
- This year the rate of of passenger traffic is such that we expect to serve the millionth passenger almost a month earlier than in 2011 - in mid-May. Two millionth passenger is planning to meet from 7 to 21 August, and three millionth passenger in the period from November 27 to December 11, - said General Director of JSC "Airport Tolmachevo" Alexander Borodin.
These high rates of passenger growth are the result of systematic work on attraction of new airlines and the development of the route network. Thus, the opening of regular flights to the Turkish city of Istanbul will be held on March 15
Reference:
For the first two months of 2012 the total passenger traffic at the airport totaled 423,102 people (up to 33.3% in 2011): 199 865 passengers were sent (30% more than in 2011), 198,060 people have arrived ( 32.4% growth), the number of transit passengers totaled 25,177 people (an increase of 78.4%).