The business meeting with representatives of the "Nice Cote d'Azur" airport was held at the Tolmachevo Airport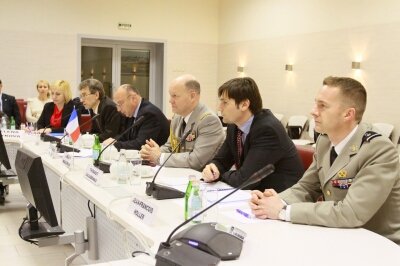 Heads of the Tolmachevo Airport and representatives of the Nice Cote d'Azur airport conducted a business meeting on the prospects of cooperation.
The meeting took place within the visit to the Novosibirsk region of the French Republic delegation, headed by the Ambassador of France in Russia Jean de GLINIASTY.
Representatives of the "Nice Cote d'Azur" airport got acquainted with the Tolmachevo airport complex, with the technology of passenger and airline service.
French visitors have noted a steady growth of passenger traffic of the Tolmachevo Airport, the current level of technical equipment and aviation security, passenger service culture and appreciated the Novosibirsk airport.
During the working meeting Nice airport experts expressed their readiness to to provide the Tolmachevo airport consulting and educational services. The parties also discussed the possibility of opening of direct flights and increasing transit passenger traffic between Novosibirsk and major cities of France.
Reference:
The Novosibirsk Airport (Tolmachevo)is the largest air hub east of the Urals located on key transit routes between Europe and Asia. The capacity on domestic flights is 1,800 passengers per hour, on international flights - 750 passengers per hour. The airport has two runways. According to business plan in 2012 The Tolmachevo Airport plans to serve 3,155 thousand passengers that is 14% higher than in 2011.
"Nice Cote d'Azur"airport is the second in passenger traffic airport in France. Annually, the airport serves more than 10 million people. At the airport are operated two runways. Passenger transportation services are provided by more than 100 airlines, including Air France, EasyJet, the Russian "Aeroflot" and others.