The Tolmachevo Airport upgraded the passengers screening system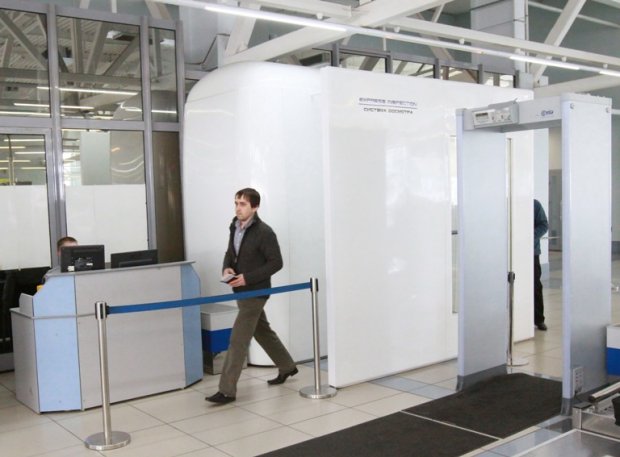 In order to improve security systems the Tolmachevo Airport will purchase the third consecutive equipment "Sibskan" for pre-screening of passengers.
This decision was made in view of the dynamics of passenger growth: over 22% in 2011 and more than 30% in the first quarter of 2012. Total investments will amount to about 5 million rubles. The new equipment will be installed in the Domestic Flights Terminal (A).
"Sibskan" is the development of the Institute of Nuclear Physics of Budker SB RAS scientists. It eliminates the need for passengers to remove clothing and shoes, as well as to remove metal objects and mobile phones from pockets. The maximum scan time - 5 seconds. Ultralow dose of x-ray irradiation does not exceed the natural background radiation and allows one person to be inspected up to 200 times a year. This modern way to express control was highly appreciated by clients of the Tolmachevo Airport: it is selected by a third of passengers.
The Novosibirsk Airport (Tolmachevo) - the largest air hub east of the Urals located on key transit routes between Europe and Asia. The capacity on domestic flights is 1,800 passengers per hour, on international flights - 750 passengers per hour. The airport has two runways. According to business plan in 2012 The Tolmachevo Airport plans to serve 3,155 thousand passengers that is 14% higher than in 2011.
X-ray inspection system "Sibskan" - a compact fully automated system intended to detect hidden on the body and in clothes explosives, glass and plastic vials and other items. The equipment is certified in civil aviation and has a sanitary passport. Capacity - 120 people per hour. "Sibskan" successfully operates in such airports as Domodedovo (Moscow), Pulkovo (St. Petersburg), Tolmachevo (Novosibirsk) and Khanty-Mansiysk Airport. Licenses for the production of the system were purchased by Japanese, South Korean and Chinese companies.