CZECH AIRLINES LAUNCHES REGULAR OPERATIONS ON THE NEW ROUTE SKOPJE – PRAGUE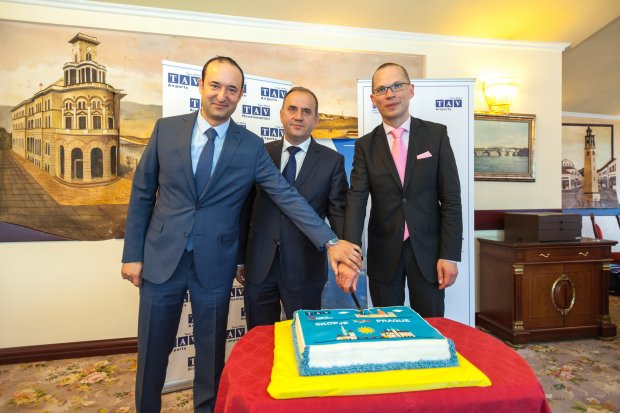 Photograph - TAV Macedonia Deputy General Manager Alper Ersoy, TAV Macedonia General Manager Zoran Krstevski, Czech Airlines Director for Commerce and Marketing Ján Tóth
With a traditional water cannon salute last night five minutes after 1h a.m. TAV Macedonia welcomed the first inaugural flight from Prague at Skopje Alexander the Great Airport, re-establishing this route together with Czech Airlines after 4 years pause.
The aircraft than took-off from Skopje to Prague at 3:30 a.m., marking the first realized return flight to the Czech capital.
"I am very pleased that our intention to renew a regular scheduled connection between Skopje and Prague, which we officially announced at the beginning of December, has come true today. Effective today, passengers from both countries can enjoy to the fullest the benefits of a direct scheduled connection between the two cities, without complicated transfers and unnecessary layovers. The route development is in line with our expectations. We offer passengers attractive days of operations, morning departure times from Skopje and evening departure times from Prague, i.e. the maximum use of time during their stay in Prague. This will be appreciated by both leisure and business as well as corporate travellers," Ján Tóth, Czech Airlines Director for Commerce and Marketing stated.
Alongside regular scheduled services, CSA also is renewing their activities in the charter transport segment of the Macedonian market. From 1st of July until
9th of September 2016, the airline will also operate charter flights for ASA Tour and other local tour operators between Skopje and Heraklion – Crete, every Friday, connecting it to the flights between Skopje and Prague.
We are very happy that with this launch we have accomplished another request of our valued passengers for a direct flight to one of the most beautiful European capitals - Prague. We do believe that it will find great interest among all groups of passengers – passionate travelers from the both countries, students, artists, businessman and ex-patriates. We expect greater economic and cultural exchange between Czech Republic and Macedonia, more Czech tourists and an increase of cargo-traffic, said Zoran Krstevski, TAV Macedonia General Manager.
Czech Airlines will operate the route to Prague from Skopje on Mondays and Fridays in the early morning hours. Effective 29 June 2016, the carrier will add another frequency on the route, departing Skopje on Wednesdays at 4:10 a.m. local time, offering up to three frequencies a week on the route Skopje-Prague connecting the two cities and numerous connecting flights to a number of destinations from the Czech capital.
Return flights will be leaving Prague on Thursdays and Sundays in the evening, at 10:25 p.m. local time, arriving in Skopje shortly after midnight local time. Effective 28 June 2016, the carrier will add a Tuesday frequency, departing Prague at the same time.
The flights will be operated by modern Airbus A319 jet aircraft with 144 seats in the Business and Economy Class configuration during the main summer season, while during the slower part of the season, the route will be serviced by ATR 72-500 turbo propeller aircraft with the capacity of up to 70 seats. Czech Airlines plans to provide the service year round.
One-way tickets from Skopje to Prague start at EUR 75, while return tickets can be purchased from EUR 144 including all charges. The tickets for the direct Czech Airlines' Skopje – Prague service are available to purchase on the company's website www.czechairlines.com, via travel agencies, ticketing offices or online sales points. In connection with its return to the Macedonian market, Czech Airlines has established its new dedicated sales and ticketing office in downtown Skopje in co-operation with the Atlas Corporation tourist agency.
Ticket prices also include free transport of one cabin piece of baggage of up to 8 kg and one checked-in piece of baggage of up to 15 kg.
Passengers can check-in for their flights to Prague comfortably and free of charge directly at airport check-in desks or use the option of online check-in up to 36 hours prior to the scheduled departure of their flight.
Online check-in for Czech Airlines' flights is available via Czech Airlines' website: www.czechairlines.com, via Smartphones and via the carrier's own native application compatible with all basic operational systems – iOS, Android and Windows.
It is possible to change already-issued tickets, purchase complementary services, such as preferred seat booking, menu upgrades, baggage in excess, via the "My Bookings" application on Czech Airlines' website: www.czechairlines.com.
TAV Macedonia finished 2015 with a 22% increase in the total number of passengers at two Macedonian airports - Alexander the Great in Skopje and St. Paul the Apostle in Ohrid, reaching 1,560,381 passengers.
The trend of increased traffic continues this year. In the first four months of 2016 through both Macedonian airports transported were 486,968 passengers, which is increase of 28% compared to the same period in 2015. At the same time, number of operations (landings and take-offs) at both airports increased by 15%.