TAV & WizzAir announce: The new route Skopje-Hannover starts as of 31st of October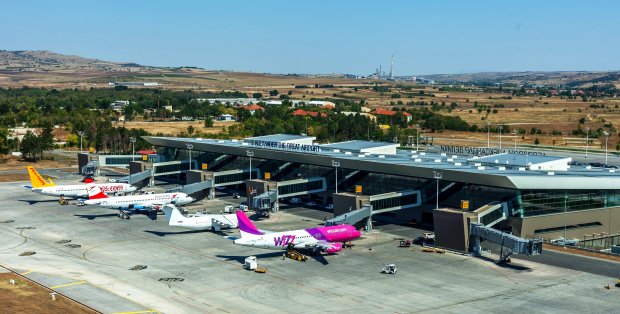 The airline will fly on the route twice a week during 2016/2017 winter season. On Mondays and Fridays aircrafts will depart from Skopje, while on Tuesdays and Saturdays it will arrive from Hannover
The new route Skopje-Hannover, operated by Wizz Air from Skopje Alexander the Great airport, starts as of Monday - 31st of October, announced today jointly TAV Macedonia, the airport operator and Wizz Air, the largest low-cost airline in Central and Eastern Europe.
The first flight will take off from Skopje to Hannover on 31st of October at 18:50h, and will arrive from Hannover to Skopje on 1st of November at 00:25h. The airline will fly on the route twice a week in the winter season 2016/2017, departing from Skopje on Mondays and Fridays, and arriving from Hannover on Tuesdays and Saturdays, at the same timings.
-Hannover is the 23th destination operated by Wizz Air from Skopje Alexander the Great Airport and the 9th destination from Skopje and from Macedonia, to Germany. We are excited of the rapid expansion of destination's network at the Macedonian Airports made in the last years, and we will continue on working on its further expansion, together with airlines, the Government as our partner, and all involved institutions in aviation. We expect this route to be successful and connect our passengers to Germany, weather for business, education or for travel & leisure, while in the same time to bring German tourists & businessman in Macedonia, stated Zoran Krstevski, TAV Macedonia General Manager.
As Wizz Air informs, seats on the new route Skopje-Hannover can be booked from only 899 denars for one-way ticket, including taxes and non-optional charges, on the airline's web page: wizzair.com.
-We are thrilled to be launching another route from Alexander the Great Airport to Hannover. With fares starting from as low as MKD 899, we are sure this route will be as popular as the other 22 in our Skopje network. We remain committed to Macedonia and keep on offering the lowest possible fares paired with excellent onboard service and a great travel experience. Our
friendly Macedonian crew looks forward to welcoming you on board a WIZZ flight with a smile, said Tamara Vallois, Head of Communications at Wizz Air.
Besides Hannover, as the 23th destination by this airline, Skopje Airport is connected to another 8 cities in Germany: Berlin, Cologne, Dortmund, Frankfurt, Friedrichshafen, Hamburg, Munich and Nuremberg, all operated by Wizz Air.
Skopje Alexander the Airport offers direct routes to 33 destinations, and together with Ohrid St. Apostle Paul Airport Macedonia have a total of 35 air connections at the moment.
TAV Macedonia ended the first 9 months of 2016 with 17% more passengers carried at both Macedonian airports – Skopje Alexander the Great and Ohrid St. Paul the Apostle, compared to the same period last year, reaching a total of 1.382.714 passengers. In the same time period, from January until September 2016, the number of take-offs and landings at both Macedonian airfields has also been increased by 11%, to total of 13.009 flights.