Pulkovo St. Petersburg Airport celebrates the Chinese New Year with Tea Ceremony and Martial Arts Performance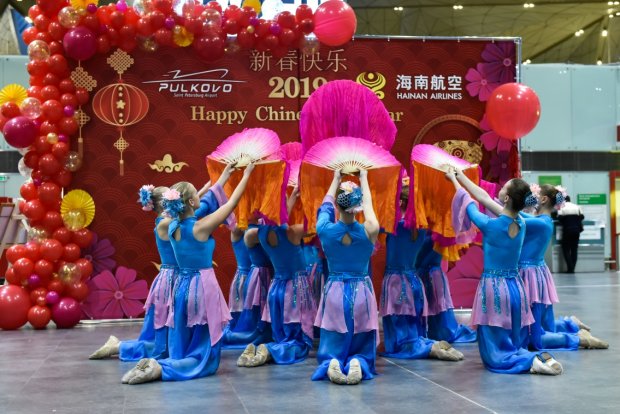 On February 6, 2019, Pulkovo St. Petersburg International Airport celebrated the Chinese New Year. Workshops dedicated to the traditional Chinese hobbies, and shows of sports teams took place in the check-in hall of the airport. The event was arranged by Northern Capital Gateway (NCG), the operator of Pulkovo Airport, and Hainan Airlines.
Evgeniy Ilyin, Chief Commercial Officer of Pulkovo International Airport operator Northern Capital Gateway LLC, noted:
"China remains one of the strategic markets for Pulkovo Airport. Demand for direct flights between St. Petersburg and cities of the PRC continues growing both on the part of Chinese and Russian travellers. Based on 2018 results, 278,000 people took direct flights between the Northern Capital of Russia and various points in China, which is a quarter more than in 2017. We are delighted that Hainan Airlines, one of the leading global carriers, has been a reliable partner of Pulkovo Airport for already more than 11 years. By linking St. Petersburg and Beijing with direct service, the airline provides comfortable flights for tourists and business travellers from the PRC and Russia."
An eventful program awaited the passengers and guests of Pulkovo departing from St. Petersburg on February 6th. During the tasting of the Hainan Airlines onboard meals, everyone could try the national Chinese food and fortune cookies. Workshops offered the basics of traditional Chinese painting and the tea ceremony. Passengers and guests of the airport enjoyed the show prepared by 'Dialogue with Udao' and 'Northern Dragon' Cultural and Sports Centre martial arts teams, and the dance group from St. Petersburg School No.547. Additionally, the 'Diversity of Beijing' photo exhibition was held in the departures hall showing the cultural and architectural features of the Chinese capital. The airport's sign and roof of the terminal were lit up red in honour of the holiday.
Hainan Airlines performs all-round direct scheduled flights from St. Petersburg to Beijing. In 2018, the carrier served over 50,000 passengers at Pulkovo. The airline's share in the total direct passenger traffic between Beijing and St. Petersburg amounted to 83%.
In 2018, Pulkovo Airport provided scheduled direct flights to the Chinese cities of Nanjing, Beijing, Xi'an, Ürümqi, Wuhan, Haikou, Chengdu, Shenzhen, and Shanghai, as well as charter service to Guangzhou and Shanghai.
In December 2016, Pulkovo became the first Russian airport to receive the Welcome Chinese Certificate from the China Tourism Academy. St. Petersburg air harbor introduced services for passengers in Chinese (flight screens, sound alerts, payment with WeChat and UnionPay systems, and more) and confirmed compliance with high standards of quality services for Chinese travelers.