Enjoy a Stay at Aalborg Airport Hotel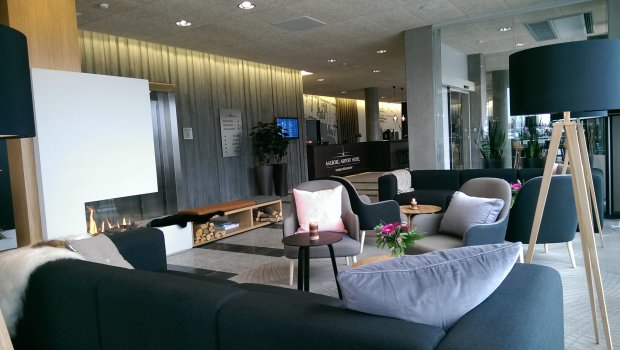 The 1st of October this year, a brand new airport hotel opened up the doors for passengers traveling through Aalborg Airport – providing a perfect opportunity for recharging the batteries before departure.
Since the 1st of October, 2014, travellers going through Aalborg Airport have had the opportunity to enjoy a relaxing stay at the new Aalborg Airport Hotel, merely 50 meters from the entrance. Spending a night at the hotel is ideal for passengers with early departures, who want to be fully rested before their departure.
The new hotel can provide the business man with the necessary respite after a busy day on the road, and the opportunity to be equipped for an early meeting. Moreover, families can get a good night's sleep and go directly to the gate the next morning. The hotel is open 24 hours a day and check-in of luggage is possible for up to 23 hours before departure at Aalborg Airport, so there is no stress or worries; just relaxation in a comfortable and quiet environment that ensures the best travel experience.
A Modern Airport Hotel
The hotel has 64 double rooms, where the interconnection of two rooms can be arranged if more people are traveling together. Each double room is equipped with everything a good airport hotel can offer, including office furniture, a flat screen TV, safety box, air conditioning and free Wi-Fi. Additionally, there is a private bathroom with a hairdryer and all rooms have modern furnishings and are hypoallergenic. To guarantee the traveler a comfortable and quiet night, all rooms are equipped with blackout curtains and the windows are soundproof.
The hotel itself has, in addition to its modern and appealing design, good facilities that contribute to the pleasant experience. Next to the reception, a cozy and charming lounge area with fireplace is presented, where a drink or a warm dish can be enjoyed. Is there a need for some fresh air and the weather is good, it is possible to use the hotel's splendid rooftop terrace.
The hotel has been well received in the month following the launch and fulfilled the expectations for the hotel's occupancy rate. They have even experienced nights, where all of the hotel's 64 available rooms have been booked.