Press conference with Lufthansa at Aalborg Airport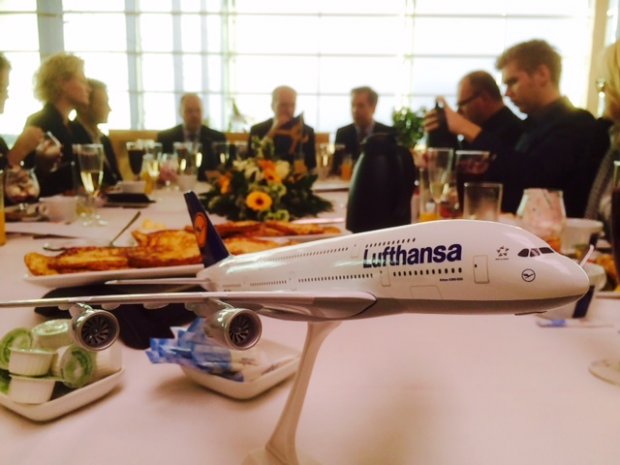 The opening of the route between Aalborg and Frankfurt with Lufthansa is fast approaching. Launch is 30th march. Friday representatives from Lufthansa met journalists for roundtable discussions in Aalborg Airport.
Present at the conference were Danish country manager Morten Balk and Martin Riecken, Director Corporate Communications Europe both Lufthansa.
"We experience great interest for the new route between Frankfurt-Aalborg, and we are very happy," Martin Reicken recounted.
The route is operated twice daily with Bombardier CRJ900 aircraft with 90 seats and Business and Economy Class.
"Adding Lufthansa to our route network is a great next step for Aalborg Airport, our passengers will be looking forward to Lufthansa's great service and one of Europe's best flight networks. It will make Aalborg Airport an even more attractive place to start a busness trip from Jutland, Denmark. It will even enable us to extend our market uptake for especially the business segment," Søren Svendsen, CEO Aalborg Airport, added.
From March 30th Lufthansa is flying between Aalborg and Frankfurt twice a day. The route is attractive for both business and leisure travellers, who are going to Frankfurt or further out in Europe, and the rest of the world. Many of the onward connections from Frankfurt is excellent in relation to travel times from Aalborg to Frankfurt, located morning and early evening.
"Best in class service, free parking, great connections to top European airports and a proactive marketing effort are the means by which we will work towards future success for Aalborg Airport and our partner airlines," reported Søren Svendsen, CEO Aalborg Airport