Fast Track at Aalborg Airport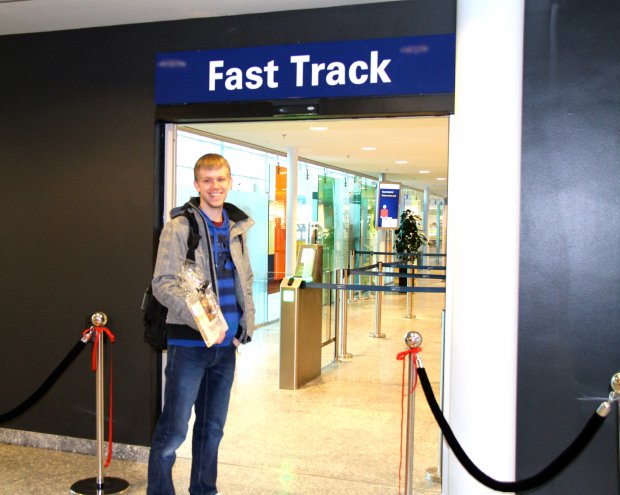 February 17th Aalborg Airport was able to welcome the first passengers through the new Fast Track. For more passengers this means it will be even faster to get through the security checkpoint.
In honor of our new Fast Track, we let the first KLM passenger, Christian Pedersen, cut the rope and go through to the security checkpoint.
- "At Xergi, where I work as a Project Engineer, we use Aalborg Airport often and it is very important for us that we can spend the time at the airport in the best possible way. With Fast Track, we can quickly get through the security checkpoint, and continue to the lounge, where we can use the time to check email", says Christian Pedersen, Project Engineer at Xergi.
Who can use the Fast Track?
Initially, KLM Sky Priority passengers with KLM Business Class or Flying Blue Gold, Platinum, Club 2000 and Skipper could use the new Fast Track, but also SAS and other airlines' customers will soon be able to use Fast Track at the airport.
The new Fast Track is designed so you can use boarding cards, magnetic stripes and NFC, which is used in smartphones. This makes it quick and easy for passengers to get through, and then go directly to the security checkpoint.
- "It is a service our airlines have been looking for, and therefore it was a priority for us to meet this", says Kim Bermann, COO Aalborg Airport.