Double-digit growth in Aalborg Airport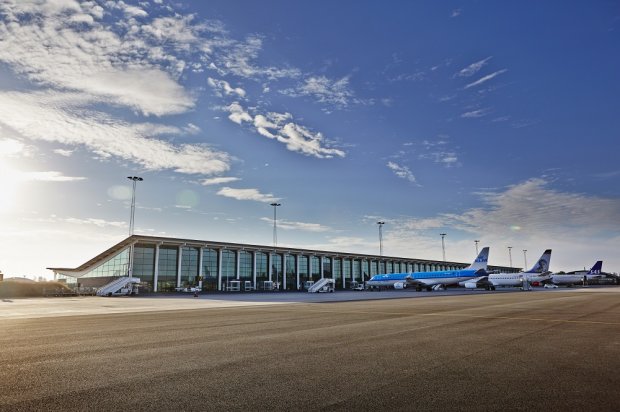 April 2018 came to pass with a massive passenger increase of 14.1 percent compared to April 2017, due to a continued strong growth in foreign traffic and a passenger increase in domestic traffic.
In Aalborg Airport, the second quarter of the year has begun - with April 2018 showing a massive passenger increase of 14.1 percent compared to April 2017. Never before have more passengers been through Aalborg Airport in an April month, which is a result of the continued high growth in foreign traffic and growth in domestic traffic. A total of 127,586 passengers traveled to and from Aalborg Airport in April 2018 against 111,816 in April 2017.
Growth in domestic traffic
In April 2018, there were a large number of domestic travelers flying to and from Aalborg Airport - 72,883 passengers against 66,722 passengers in April 2017, which meant more than 6,000 more domestic passengers with SAS and Norwegian to and from Copenhagen and a growth of 9,2 percent.
"The big increase in domestic traffic is a result of the Easter holidays being placed in April last year, which they were not this year. This has given more business travelers on Denmark's largest domestic route. At the same time, for the same reason, Norwegian has had a larger capacity on the route to Copenhagen. Several seats in the offer generally provide more cheap tickets and thus more passengers, as seen in April this year, says CEO of Aalborg Airport Søren Svendsen.
Summer program in full swing
In May, there is a natural transition to the full summer program, which results in more travelers and thus more business at Aalborg Airport. Therefore, preparations for taking on the summer traffic are taking place - including 320 new parking spaces and the preparation of the new CAT III landing system, ready for completion on the 25th of May.
"The summer traffic has landed and all of our 341 employees are ready to accommodate the many travelers. In addition to a wide range of holiday trips to Spain, Greece and Turkey, there is, from the 10th of May, the summer route Athens to look forward to. This new route sets up a whole new holiday experience for the Danes. In addition, DAT starts their regular route program to Bornholm one month earlier than last year. Consequently, there is a prospect to both more foreign and domestic traffic throughout the summer, Søren Svendsen concludes.
In April 2018 there were 48,349 international passengers to and from the airport against 32,278 in April 2017 - a significant increase in foreign traffic of 49.8 percent. At the same time, there was a decrease in the number of charter passengers of 50.4 percent - corresponding to 6,344 passengers in April this year against 12,816 in April 2017.