Record May Despite Summer in Denmark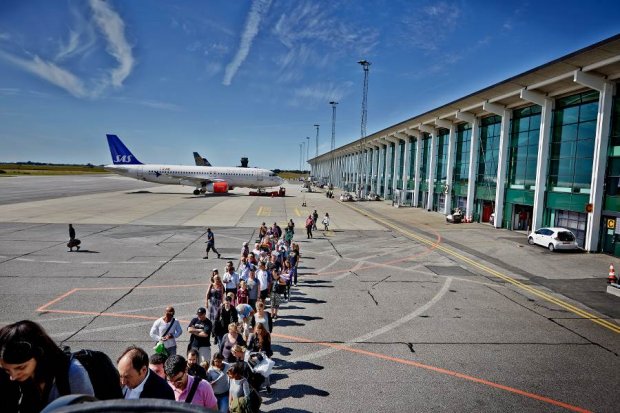 May 2018 will not only be remembered for the many hours of sunshine and warmth in Denmark. In Aalborg Airport it will also be remembered for the best May ever. Compared to May last year, there was an increase of 13.2 percent, but looking at all the May months through the airport's 80-year history, May 2018 is the best May ever.
May 2018 became the best May in the airport's 80-year history. In total, 149,696 passengers traveled to and from Aalborg Airport in May 2018, compared with 132,234 in May 2017, which represents an increase of 13.2 percent.
Again increase in domestic traffic
In May 2018, there were a large number of travelers flying domestic to and from Aalborg Airport – more specifically 79,188 passengers against 76,884 passengers in May 2017, which meant more than 2,304 more domestic passengers and a growth of 3.0 percent.
– It is pleasing that domestic traffic again in May shows an increase. Both business and leisure travelers are diligent users of the many flights, for example, when it comes to tourist experiences in Copenhagen, says airport director Søren Svendsen, adding: - The Bornholmer route with DAT has also had a very nice start to the season.
Foreign traffic flies away
In May 2018, there were 53,671 international passengers to and from Aalborg against 34,540 in May 2017 – a significant increase in foreign traffic of 55.4 percent. At the same time, there was a decline in the number of charter travelers of 19.1 percent – corresponding to 16,837 passengers traveling on charter holidays in May this year against 20,810 in May 2017.
– It is still in foreign traffic, where we see a good progress, and for example, the route to Amsterdam with KLM and Norwegian's route to Malaga are just a few examples of successful routes, says Søren Svendsen.

Airshow on June 10th
June offers, in addition to a major traffic program with up to 35 direct destinations in Europe from Aalborg Airport, also a special event. On June 10, the Air Force will host Airshow, where you can experience spectacular flight formations, fighter aircraft, helicopters and airplanes in the airspace above Aalborg Airport. The commercial traffic to and from Aalborg Airport is not affected by the magnificent show, but it is expected that the traffic on land to and from the airport is affected in the period 7-20, so if you travel from Aalborg Airport on Sunday, June 10th, it is recommended to drive from home in good time.