New Aircraft Hangar Inaugurated at Aalborg Airport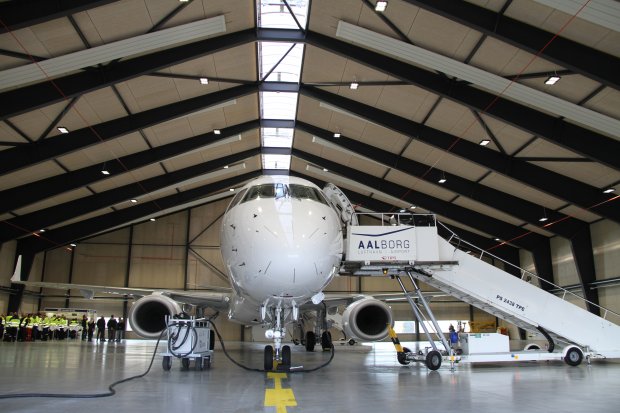 At Aalborg Airport, October 8 2019, there was official inauguration of a new aircraft hangar of 2600 m2 - an aircraft hangar that has been used by two airlines already before the opening.
Ten months ago, the first move was taken to the construction of a new aircraft hangar at Aalborg Airport. October 8 2019, the airport could inaugurate the hangar, which is 2600 m2. The inauguration took place with speeches, red ribbon and bubbles.
The aircraft hangar, which is 16.2 meters high, can accommodate medium-range aircrafts such as the Boeing B737 and Airbus A320. In addition, in connection with the hangar there are 350 m2 of office and storage facilities, where a company specializing in aircraft service has rented. The hangar is to be used primarily for the periodic inspections that all airlines are subject to, but also come into use in the event of technical problems. This means that airlines no longer have to wait for a mechanic or spare part, which can often be a cause of delay.
Hangar already in use
The new aircraft hangar was not actually completed before the first aircraft rolled in for servicing.
- Today it is the official inauguration of the aircraft hangar, but the hangar has already been used by two different airlines. So there is no doubt that the hangar has great value for the airlines and that we meet a demand, says CEO Søren Svendsen.