Aalborg Airport ready for Christmas traffic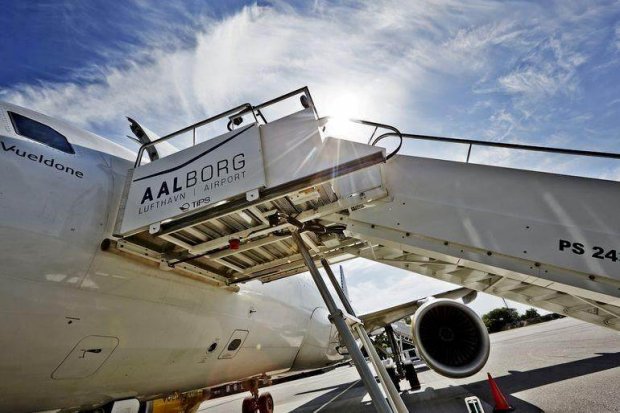 At Aalborg Airport, November 2019 saw growth in charter traffic, but an overall decline compared to November 2018. Now is the big Christmas month of the year and offers more charter traffic to the Canary Islands and the ski news Sälen-Trysil.
The Danish winter weather has left its mark and November 2019 included, among other things, progress in charter traffic with filled flights to charter favorites such as Hurghada, Tenerife and Gran Canaria. Despite the increase in charter traffic, in November 2019 there was a total decline of 8.0 percent at Aalborg Airport - with 117,619 passengers in November 2018 against 108,236 this year.
Sunny destinations popular in November
In November 2019, the sunny charter destinations were popular and boosted charter traffic by 15.2 percent. Thus, there were 7,598 charter travelers in November 2019 against 6,595 charter travelers in November 2018.
- In November, we saw a great deal of wanderlust, especially when it came to the Canary Islands, where Norwegians winter route to Gran Canaria offered almost full flights throughout the month. Almost the same picture came to play on the route to Malaga, says airport director Søren Svendsen.
In November 2019, there were 29,770 passengers to and from abroad compared to 34,367 passengers in the same month last year - a decline of 13.4 percent.
Christmas traffic in December
The Christmas holidays are just around the corner and traditionally many travelers coming through the airport either go abroad for Christmas holidays or visit friends and family. Again this year, Atlantic Airways and DAT are adding extra departures around Christmas and New Year to the Faroe Islands and Bornholm, respectively, to the delight of the many Faroese residents and Bornholmers.
- At Christmas we would like to be with friends and family, which is why it is gratifying that those who have long-distance family relations, for example in Copenhagen, the Faroe Islands and Bornholm, can easily come to visit or come home for Christmas and New Year. At the same time, many families have a tradition of celebrating Christmas and New Year abroad. Here the Canary Islands are again popular, where also the charter route to Fuerteventura starts here just before Christmas. In addition, at the end of December we can look forward to SAS's opening of Sälen-Trysil, which provides quick access to unique skiing experiences up north and the opportunity to celebrate the New Year on the snow-covered slopes , concludes Søren Svendsen.
In November 2019, there were 70,868 domestic passengers to and from Aalborg Airport against 76,657 in November 2018, corresponding to a decline of 7.6 percent.