Expected decline at Aalborg Airport in 2019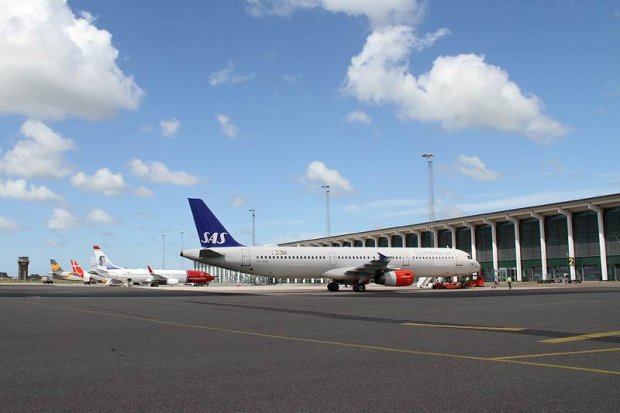 At Aalborg Airport, 2019 was a year of great investments for the benefit of travelers, and at the same time a year where the number of passengers could not compare with the historical record in 2018. Thus, an expected decline of 9.2 per cent in 2019.
Aalborg Airport looks back at 2019, with an expected 9.2 percent passenger decline. In total, there were 1,462,507 passengers through Aalborg Airport in 2019 against 1,609,965 passengers in 2018. At the same time, 2019 marks itself as a year where the airport as a whole received a big boost, including 900 extra free parking spaces, new security area, aircraft hangar and not least the award as the best Danish airport at the Danish Travel Awards.
Stabilization of air traffic
In terms of traffic, 2019 could not live up to the progress of the last many years at Aalborg Airport - a result of fewer aircraft in the air starting from Aalborg Airport.
- 2019 was a year in which the aviation industry had to be stabilized following a number of challenges, which started at Aalborg Airport with the bankruptcy of Primera Air in late 2018. The bankruptcy caused turbulence for the Danish charter industry in particular, where a shortage of flights abroad affected the supply of passengers and passenger numbers this year. On the other hand, Great Dane Airlines was founded in February, as the first airline based in Aalborg - with two flights from June 2019. During the year, they have gained a foothold in the charter market, where with almost four aircraft they can expect to accommodate a large part of the travel needs we have seen unmet in 2019, says airport director Søren Svendsen.
December 2019 indicates normalization
In December 2019, there was a slight decline of 4.3 percent compared to the last month of 2018. The relatively small decline may indicate that there is a normalization in traffic. In addition to an increase in charter traffic of 5.5 per cent, the minimal decline of only 0.3 per cent in domestic traffic is noticeable.
The ups and downs of international traffic
Following the massive growth in International traffic in 2018, a crack came in 2019 with a decline of 14.2 percent. However, the number of foreign passengers in 2019 is still more than 10 percent higher than the number in 2017. At the same time, there were good progress in 2019 on routes to Barcelona, ​​Malaga, Amsterdam and Oslo.
- The decline in international traffic was expected, which is why it is gratifying to see that there were a number of well-established routes with an increase in passenger numbers in 2019. SAS launched major news in back in August, when it was first announced that a new ski route to Scandinavian Mountains Airport at Sälen became a reality from December 29, 2019. It was then announced that their Oslo route would receive a large capacity lift of 50 percent from October 27. There are now nine weekly direct flights to Oslo. Furthermore, KLM grew for the 8th consecutive year, with as many as 235,886 passengers using the route between Aalborg and Amsterdam in 2019, says Søren Svendsen.
Denmark's best airport
In 2019, Aalborg Airport accelerated major investments and optimizations at the airport. In late May, up to the always busy summer holiday traffic, 900 new free parking spaces were ready and a new and modern security flow was inaugurated. In September, the installation of a new bird radar system that increased flight safety at the airport followed, and in October the new large hangar was ready, which was already in use for aircraft service one month before it was fully completed.
- Security, high quality and service are something we cherish as an airport, which is why there have been many large and small projects underway in 2019 - also in relation to the climate, which has been high on the agenda, says Søren Svendsen and continues - The most important is our passengers' experience and opinion about the airport, and it was announced at this year's Danish Travel Awards on October 2. Aalborg Airport received the award "Best Danish Airport 2019", which must be said to be one of the highlights of the year.
What can 2020 offer?
Looking ahead to summer 2020, there are a number of travel news to look forward to. Among other things, Detur flies to Gazipasa Airport, a short distance from the holiday paradise Alanya, SunCharter presents the Greek news Meganisi, Atlantic Airways increases frequencies to the Faroe Islands and DAT increases to three weekly departures to Bornholm throughout the summer as well as a fourth weekly departure in July.
- In 2020, we expect status quo in the number of passengers in the first months, but as we get further along, increase is expected again. Domestic traffic in particular, which has been negatively affected by higher fares in 2019, will be exciting to follow. Not only with the extra capacity for Bornholm, domestic flights have now arrived on reiseplanen.dk, where in the long term prices will also come with. In addition, 2020 is also the year when the national railroad will depart from Copenhagen Airport and directly to the door at Aalborg Airport, concludes Søren Svendsen.