Aalborg Airport's Lounge Voted the World's Best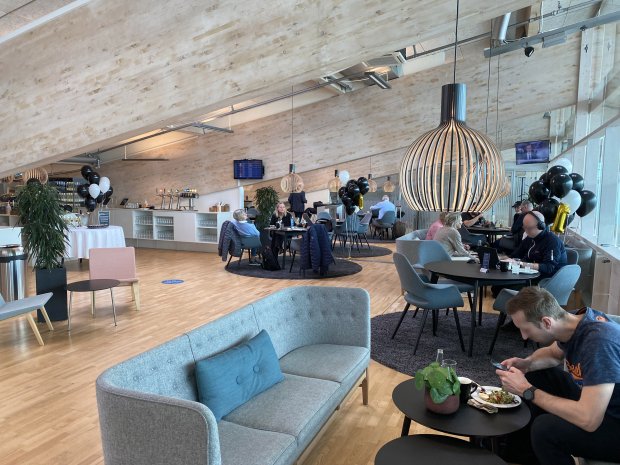 In a passenger survey for KLM and Air France travelers, Aalborg Airport Lounge has been voted the world's best lounge for the year 2021.
Every year, KLM and Air France fly to hundreds of destinations around the world, where 2021 marked the 10-year anniversary of the Aalborg-Amsterdam route. Aalborg Airport Lounge is frequently used by the many KLM travelers to Amsterdam, who in a passenger survey for 2021 placed the lounge in first place among the 162 lounges worldwide that were included in the survey.
A Top Lounge Experience
Over the last decade, the lounge at Aalborg Airport has been expanded several times to keep up with the growing number of passengers and demand from both leisure and business travelers, many of whom fly with KLM to and via Amsterdam to, for example, the United States.
- The quality passenger experience is the main focus every day for our dedicated employees throughout the airport. We are therefore honored to receive such great recognition from the travelers – both regarding the lounge itself, but also the employees who welcome them. It is important to us that everyone feels welcome when they enter the lounge, whether it is a business traveler or a family with children on their way to Crete. We do not need to have the largest lounge in the world, but we strive to be the best; by creating a calm and cozy atmosphere and excellent service that we wish our travelers to experience in every corner of Aalborg Airport, says CEO Niels Hemmingsen.
Global Recognition from the Travelers
In Air France and KLM's passenger survey, travelers were asked how they would rate their lounge experience at Aalborg Airport on a scale from 1-5. The overall score was then compared to other lounges around the world.
- In this rather unusual time, it is important to celebrate the positives. We find it absolutely fantastic that our passengers globally have placed the lounge at Aalborg Airport in first place in 2021. It is an invaluable recognition of our partner's great work, says Anita Wagner Feddersen, Sales Director for Air France KLM Denmark and Iceland.
The recognition was celebrated on the 16th of March with cream buns from Aalborg Chokoladen and a glass of Cava for every traveler in Aalborg Airport Lounge.